It's been a good while since I invited a guest into the Class Room for some probing (not of the anal variety, sick readers). School has been out for summer… winter, spring and autumn, but when the bell rings and the mind gets inquisitive, there's no excuse for truancy. Joining me is a paragon of rocking and a rolling, a man who has his own army and champions the good fight, the fight for unity and prosperity for all, in music and life. Fresh off a critically acclaimed new album, I welcome the irrepressible Idol Dead frontman Polly Phluid… let's rock.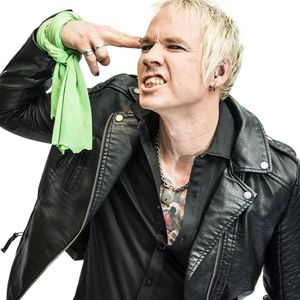 JC: The Idol Dead are one of the most consistently entertaining rock bands in the UK right now, as a primary source I believe it's a fact. Tell us about the formation of the unit you so energetically front? 
PP: Well, I was in a band called Phluid for about 13 years - with Ginna from The Main Grains and Robbie from Psychobabylon.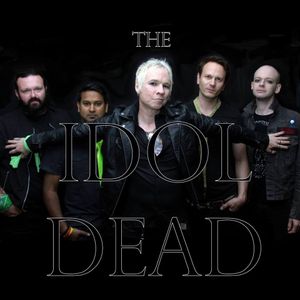 When we called it a day I was gonna hang up my Converse and knit, or summat, but I got a message through Myspace from Tim who'd just finished in a band called Concrete Bullet with Nish. He'd seen Phluid in 2002 and wanted to work with me, so I said yes. We advertised for a bass played and got a mad Spaniard – then we advertised for a second Guitarist and KC tipped up… Miguel, bass, ran off to London to study jazz so we nicked Dan from another band. The rest is all fluff – I love them all and they make my life easy by just being very, very good at being in a band! 
JC: One thing which stands out for the ID is the 'Idol Army', as they are affectionately referred to. There are a lot of cool bands plying their trade with decent followings, but the dedication of ID fans seems particularly special. What do you think has forged and maintains this connection? 
PP: We work at it and we are really, really appreciative of the support. End of the day we are all music fans. We believe we are all members of the Army, we love other bands like you guys, NGS, Blacklist Saints, Main Grains, DAS etc. and I think that comes across. I think, and I feel the band share the philosophy, that when we hit the stage we're all laser-shooting, rock n rolls sex-gods from outa-space – but the minute the last chord rings out we're back in the pit being fans of music. People dig that cause we're part of the gang, and we love being there. The Idol Dead isn't a band with fans, it's a collective of people who love this whole scene. On top of that we give really good value for money and try to never short-change anyone on either goods or performance. 
JC: You have just released your fourth full studio album 'Tension & Release'. Can you provide some insight into the new record? 
PP: It's more of a slow burn this one. The subject matter is very dark and personal, but the music is uplifting and positive. We haven't produced a 2 hour jazz odyssey or owt but the music has taken a deeper, more involved turn… available at www.theidoldead.com/store by the way. 
JC:  Do you and the band have any collective objectives, for instance I noticed you were eager to play Camden Live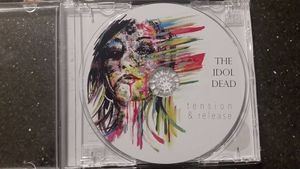 Festival which you appeared on this year, is there anything else you have set your sights on? 
PP: We're looking at a few of the major festivals next year – as well as some of the great underground ones we play regularly. The main focus has been the album/pledge and making sure everyone got the best service, music and experience. We think we scored high on those. Now, possibly a video before Christmas and a small tour sometime in the new year. 
JC: I can hear a myriad of influence in the ID music, all culminating in something which is very much your own sound. What are your personal influences as a frontman, singer/songwriter? 
PP: I'm a massive Bowie fan, so I get a lot of my frontman stuff, and image, from his early stuff. Lydon, Miles Hunt, Bob Smith and Justin Sullivan, with a smidge of Tyla, are people I look up to lyrically, but I take a bit from stuff my daughter plays me too - that way I can use modern buzzwords and look 'cool', haha. Song-writing wise it's down to what I can throw together. As a band we tend to write together, based on ideas that people bring in. The Wildhearts are a big thing for me but, try as I might, I'm just not clever enough to rip them off! 
JC: Turning our focus to the modern music business, how would you assess the current climate and more importantly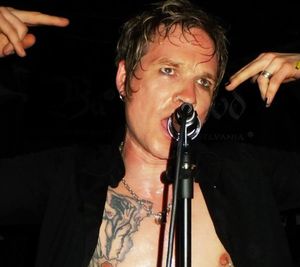 how is it treating you? 
PP: I have no interest, or belief, in the 'music business' as such. The days of record labels throwing money around, and people being 'rockstars', is over – and thank fuck! I think there is a real chance for music to become a beautiful, 2-way relationship between fans and bands. The internet is a great leveller and, once people work out that the past is over, they will embrace it and find their own way. I love sending a band 10 quid for an album that I know they will receive 10 quid of it! Real fans will always pay for art, the more of us that encourage that, offer good value, and don't be dicks, the more people will buy into the DIY ethic and people will actually start to make a living from creating the art they love. Not sure this will happen during my 'career' but it's coming. 
JC: I love the sentiment here, I think you've articulated the feelings of many of us who rock below the mainstream and also identified a solution which douses the flames of our frustration - a great response. In a swift change of track… one of my morbid fascinations is the worst gigs bands have played. Tell me about the biggest 'Train Wreck' the Idol Dead have experienced, and if you can top it with any of your previous projects… please do. 
PP: God, we played a pub in Bradford acoustically, without Nish, only to discover we were fucking terrible without a drummer – never again. We all wanted to run off stage. We also had a proper 'no one is clapping' at a gig in Yardbirds… weird. 
In Phluid we had a gig stopped by the Police – I had some banter with the audience as they shuffled us off stage and called the Police 'Feds' – one particularly stupid, and presumably deaf, copper thought I said 'Pigs' and threatened to arrest me under the Riot Act! Jim Morrison of Selby me!!! 
JC: What keeps you occupied outside the wonderful world of the band? 
PP: My kids! And mountain biking… and surfing. I also do another project with a mate called Chappy. It's an industrial metal thing called Blood4Bones. I guest on some stuff - as do various members of Psychobabylon and other Idols. 
JC: Recommend a book, a band and a film?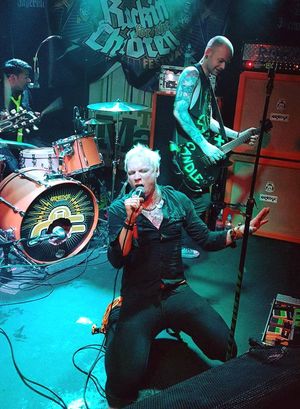 PP: Book - Good Omens by Terry Prattchet and Neil Gainman 
Band - Too many!!! See above – Sentons, Grains, Saints, DAS, Kingcrows, Main Grains, Powderkeg… just get into the underground, it's mint! 
Film - The Hallow was cool, as was 'It'… my fave film of all time though is Amelie. 
JC: Before we call it a day, is there anything you want to promote? Please leave us with a profound message from the wisdom of Polly. 
PP: Just keep believing in the underground, pledge when you can on people's work, help other bands achieve their best. KC always says 'A rising tide lifts all vessels' – it's a great way to think. We aren't in competition with anyone, we are in league with everyone, we all benefit if we all look after each other – in music, in life, in bed… 
With that, I'd like to thank you, Joey, for taking the time out to talk to me and for promoting the underground the way you do – love to you, your family and the boys in the Bombs… and Kalum, obvs. 
JC: Right back at you Polly, always great talking to you. Besides providing some excellent inspirational answers which make the questions well worth their asking, you've motivated me to continue interrogating my brethren from the underground. Too many great minds, not enough inspection. 
You can keep up to date with all the antics of our favourite deceased idols at www.theidoldead.com, www.facebook.com/theidoldead and www.facebook.com/groups/theidolarmy. Their new album Tension & relief is out right now, don't hesitate, these guys are the real deal. Cheers for taking the time people, like the slow, methodical serial interviewer I aim to become, I'll begin my hunt for a new victim soon. Peace out.