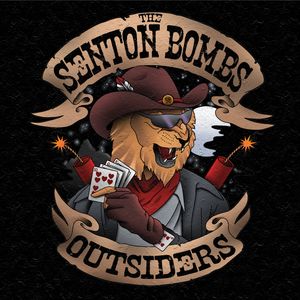 A year ago today we finally acknowledged the obvious and declared The Senton Bombs 'Outsiders'. I explained in some detail at the time in a previous blog and it's the 'Outsiders' tag many of the reviewers picked up on saying things like: "They might be "Outsiders" but they're so good, mainstream acceptance simply has to follow – this is the sound of a band kicking down the doors." (9/10 - Andy Thornley, Maximum Volume), "Global attention is long overdue for the band we strongly suggest but maybe about to be seriously poked by Outsiders, a release and title which sums up the band's sound and presence within rock 'n' roll and the individuality which will always make them stand out and excite." (Ringmaster),  "It won't be long before these outsiders are welcomed in by a whole lot of people." (Gareth Endean, Down the Front Media).
All very nice things to read but I'm not sure about the oracle status of our reviewers, their predictions do warm a heart as the weather turns icy. Our fifth studio album, produced, as always, by our original drummer and dear friend Ronnie Bomb (AKA Aaron Fisher), is a strange one. A collection of songs old and new brought together to meet a theme and evolve the sound we've been growing all these years, so here we go, breaking the record… 
1) Outsiders 
Written in 2017 
Title track and a brave opener, I feel, leading with our 'Southern Rock' styling for the first time. In many ways it's one of the simplest songs we've put together, using our improved knowledge of dynamics to stomp in and out the lead line with room for the vocals to deliver the message with certitude. Another child of the Darkest Horse and an instant live fave, for the in-depth check HERE. 
2) Who We Are 
Written in 2017 
If any song captures what we're all about it's probably this one. Finally adopting my chest voice for the verses on a faster song is why I think Powerplay Magazine described the vocals as 'mellifluous' for the first time, they are certainly smoother. From the drum and bass intro, to the guitar hook, to the catchy chorus, tasteful guitar and drum solos – WWA has just the right ingredients. Lyrically I have tried to show the theme in the music video, symbolised specifically by the crosses on the closed eyes. We are blind to whom each other really is, we each wear masks, personas, to display our 'best' selves to the world. The chorus speaks of believing everything we are told, allowing the deception as we act and pretend to be what we want others to see, for status and more. In the video a couple who have met are blinded by physical attraction, they gaze into the mirror to see themselves but their eyes are closed. The symbolic death of the female is her awakening to who her partner really is, not his masquerade. Eyes open she symbolically kills him to allow him to see the 'real' her, opening his eyes too. No longer blinded by physical attraction they stare at each other before parting ways. The male then opens the curtains to let the light of the world shine upon him, revealed and exposed, he has been changed by the encounter. Deep. 

3) Violet Black 
Written 2005 
Already thirteen years old 'Violet' first appeared on our second and most popular demo release 'Death valley Driver' (2006) – when everything SB was named after pro wrestling. The demo never did it justice so the man who originally drummed it sought to rectify. The idea for the song came when I worked on a helpline and a Scottish lady named, you guessed it, Violet Black called me. 'What a cool name' I thought. I had been wanting to write a song about aggression for some time, living in Blackpool my group of friends had encountered many altercations with drunken stag parties and wild holiday makers, not that it was all their fault. The colours violet and black conjured the image of bruises which formed around my eyes one Christmas morning after a particularly bad fight at a taxi rank. The song personifies aggression as a woman who invites you down back streets, wants to be used until you make somebody scream, knuckles bleeding… but don't abuse her or bars beckon. The bridge askes 'what have you done?' and the chorus describes how she had 'put many men away' in prison, yet aggression always remains, wired into us, badged as determination in its sociable sense. Based on some of my experiences, as I alluded to earlier, having 6-inch knives pulled on us, observing a man dressed as a fairy knock another man out… 'In the town I live, she runs naked through the street, many people turn to Violet, temptation is defeat'. 
4) I am Ablaze 
Written in 2012 
It was supposed to be the opening song on 'Gambit' but we somehow botched the recording. We used to play it live all the time and I could just never let it go. Finally, it got re-worked in 2017, removing problematic parts and adding a catchy bridge from an old song in another project I once had with SB artist Dean Reilly called 'The Lariats' (wrestling mad back then). This time, we nailed it. Following a song about aggression, this is all about being pumped to the max with emotion. Adrenaline flowing, elated, energised, motivated, inspired – "it feels good, so fucking good, I am burning underneath the hood'. When you're so hyped you could explode into action, it's not something which can be maintained but it's a great feeling. I think the music captures the theme – blood running fast, who knows the trigger, just light me up, when you are ablaze, ultimately, you feel alive. 
5) Reckless Youth 
Music Written 2005, Lyrics 2017 
The music is from an old song about a friend of ours named Gaz Mulley, a roast on his big head, blue tracksuit and love of trance music. I always felt I could use the riff on something more meaningful as it has that 90s U.S. punk feel, very 'Rancid' sounding. In 2016 our old friend Antony Kift sadly passed away, as Damien and I travelled to his funeral in Manchester we discussed what a massive impact he'd had on our lives. The drummer of our very first band 'Reckless Youth', where this song gets its title, Kift dragged us from our life of sports into the world of rock n roll. He was one of the funniest people you could meet and an extremely creative person too. I am only two days older than Kift and his passing had the kind of affect where you stop and look around, Ferris Bueller style. We needed to pay tribute to him in song, so the U.S. punk we both fell in love with in college, seemed the perfect fit. Music resurrected, the lyrics tell the story of our late teens when we started the band and discovered the reckless side of youth, the breakdown part speaks for itself. This is honestly the only song I've ever played where I get chills, maybe because it's real and not just a story or a perspective. I hope Kift would have liked it. I have many conversations on existential philosophies, always cautious to remain agnostic, however I do like to think Kift is somewhere taking the piss out of the universe in his overzealous fashion.

6) Bury the Hatchet 
Written 2015 
Knocked back by the guys during the 'Mass Vendetta' writing sessions, I never let a good song go. They deemed it 'too Dropkick Murphys', I'd say it's more 'Jason & the Scorchers', either way the 'Hatchet' finally got its burial on 'Outsiders'. A song about the grudges we hold and the regrets we grip with them. For any fallout, disagreement, conflict, the message is 'get over it before it's too late'. I appreciate some fallouts are irreparable, but most, I would guess, are just based on stubbornness. You don't have to become best friends again but you can reserve a lot of wasted energy, stop the hate and save your sanity. 

7) Remind me of the Moon 
Written 2005 
RMOTM was a pop punk song when it first emerged, Sally Class and Peg (incidentally the backing vocalists on this version) loved it and rallied for us to use it in the early Bombs, only a year old at that time. It was just too soon, sharing it with the guys our original lead guitarist Jimmy Kage (Damien's younger brother) said "sounds like fucking Enrique Iglesias", so I halted my falsetto and put the moon to bed. Sally and Peg never let it go, they would bring it up on occasion and sing the chorus melody. In 2018 I decided to rework it in our now familiar southern rock, country style, recording it on my dictaphone and showing Johnny who paid me his biggest compliment to date saying "you don't draw a moustache on the Mona Lisa", advising me to keep it solo and unchanged. As nice as that was, I felt the band could have a good go at it… and I dare say I was right. After botching the ballad vocals on a Mass Vendetta song which will never be heard, I had to redeem myself. The story is of a relationship where the insensitive male, caught up in his own world, has something of an epiphany, recognising the satellite which orbits him, like the moon to his earth, she spins around him, taking care of him. He observes and realises he could never survive without her. Spilling his regrets through the verse he reaches the breakdown considering the hurt he has caused, making him wish they'd never met just so he can undo the damage done. It's a declaration of undying love, absolute reliance and we can only hope, from here on, he treated her right. 
8) Dead Revolution 
Written 2014 
Such an SB thing to do, follow a ballad with a rebel rouser. From my all-time favourite side-project, DNS (make up your own acronym) which was basically the guys from disbanded Blackpool thrash-metallers CSOD (Constant Source of Disappointment) and I writing hundreds of piss-take songs about ourselves, our friends and people we don't like, the most childish of bands and the most fun too. Any riff the SB weren't interested in I took to DNS and transformed into the latest piss-take masterpiece. Dead Rev began life as 'Touched by a Ghost', which recalls the paranormal experience of our friend Peg who rang to inform me she had been touched by a ghost, for DNS that was all we needed, we had verses describing the spirit molesting her in all the rooms of her house. It was just so catchy. Remarkably the 'touched by a ghost' line has remained in the song, made sense of in the new concept. I wanted to write about how there are no revolutions any more, they are essentially dead, but occasionally the ghosts of revolution inspire rebellion. What would an SB album be without an anti-authority, anti-system, conspiracy based song? 
The verses encourage us to know our fellow man, avoid being divided and conquered, to recognise our enemies and fight back. The 'Misfits' style bridge notes that revolution needs to be passed to the young, those with the energy and fire in their hearts to inspire change. If we can pass them the knowledge maybe one day they will rise and fell the oppressors. I'm well aware this sounds Misfits as fuck, but hey "I ain't no god damn son of a bitch, you better think about it baby!". 
9) Video 
Written 2017 
My favourite SB song, by a country mile. I finally dared to sing in my 'real' voice, only took five albums and fourteen years. Not my Dave Mustaine, Fat Mike impressions, not my Jace Everett southern rock impersonation… my voice. Soft as it is, it's really me. I set out trying to write a Jason Isbell style song, the lyrics came to me at the dinner table in one of those 'I have to write this down' moments. The riff came instantly when I picked up my guitar, credit to the muse as all new songs roll out like this. I shared it privately with Johnny thinking I was on to something, he told me to 'keep it for my solo album', occasional SB code for 'I don't like it'. I persevered finally getting Damien to bite and off we went. The song has nothing to do with video games, making the music video rather misleading, although the nostalgia is a match. It's actually a deeply personal song looking back on my late teens and early twenties, the emotional rollercoaster of 'becoming a man', with all the pressure and responsibility life drops on you, jobs, mortgages, relationships, how sometimes you feel so low and don't even know why. The 'Video' concept comes from reflecting on this period, now older and wiser, it's like you stick an old VHS cassette in and watch the grainy memories of the kid you once were blasting into space, cold, dark, alone… then those feelings disappeared and it was all fine, out the other side, one of the lucky ones. This song details those days, speaks to the competitive nature of society and the adjustments we have to make, the successes and the failures. For me this is what songs should be, outlets for the truth, cathartic for the author and resonant to the listener. "I saw the video…" 

10) Under Offer 
Written 2013 
Originally written for a side-project with Laura Young in mind, backing vocalist on Chapter Zero ("I am the darkest horse"), I'd always hoped we could bring this song to life, fearing the SB would reject it. In all honesty Johnny and Mason did and still do, yet somehow this captured Damien's imagination and like a dog with a bone he wouldn't let it go. Another story, this time looking at being single and in demand, playing the game of dating yet always seeking the 'one', secretly afraid of being alone. This is a very different song for the SB, though it was never intended for us. I cringe slightly at my operatic, theatrical vocal performance and lobbied to keep it off the album. Damien blocked me and the feedback which followed proved him right to do so. 
11) Wake the Maker 
Written 2017 
The only musical collaboration on the album, which is partially sad and simply down to the fact we don't rehearse anymore and the rest of the band don't tend to write at home. Wake the Maker was at first a seven-minute epic we had to considerably chop down. Off the back of Damien getting me into The Cult, particularly the 'Love' album, I wanted to try something similar, reviews suggest we achieved the goal, directly referencing the influence. I'd had the title for ages, even considered for the album title, however the theme didn't fit the collection of songs. This final track poses all the big philosophical questions, one after another, as to what we are all experiencing. The verses are exclusively questions, the chorus suggesting it's time to wake the maker, implying a creator, god-type, if there is one, just so we might get some answers. By the end it brings about the frustration of the mystery "tell me all I demand", whether this demand can or will ever be met is difficult to predict. 
Conclusion
I hope the above provides insight into the songs and maybe makes the next listen more enjoyable. Long-winded I know, but anyone who knows me knows I have a lot to say, verbally or in writing. The artwork is a representation of an 'Outsider', a strong outsider, not conforming to the norm yet still ferocious and proud, found in the lion. The cowboy hat for the outlaw, the cards showing a potential straight, the gamble of not conforming with the missing card hidden up the sleeve, suggesting outsiders may cheat the system to succeed. Incidentally the card is the nine of hearts, referencing an old SB song from the Gambit album, a live fave and lyrical exploration of the multi-verse theory (soooo deep). The dynamite represents danger at his back and the shades… well I don't think they need explaining. Massive credit to Dean Reilly for his wonderful interpretation here. 
Ronnie could probably write a book about the mix, master and production process, a man of unbelievable patience and talent. Such a master of his craft, with great pleasure we are closing in on completion of the next album, the sixth and possible last (to give the guys a break from learning new stuff and get back on the road perhaps), I find treating every album like our last drives the best outcomes. 
Thanks for reading, I hope you enjoyed 'breaking the record' with me. JC