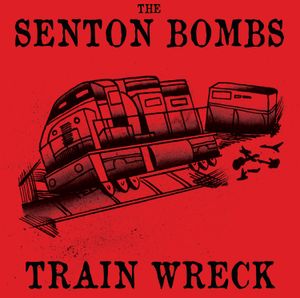 Download new single 'Train Wreck' exclusively FREE RIGHT HERE!!! 
Train Wreck is the a single from the critically acclaimed album 'Mass Vendetta'. The song tells of gigs gone wrong and explores our ghoulish fascination with the disastrous. The four-minute hard rocker, as described by reviewers: 
"It's a non-stop, fist pumping annihilation of excess RnR like most of this album." 
Uber Rock 
"The band get into a self-made slipstream and drive to a glorious oblivion, all done in sun-smoked tones and wonderfully discovered self-certainty." 
Fungalpunk 
"Flirtatious riffs and grooves joins the rapacious energy fuelling a rockabilly courting slice of bracing rock 'n' roll. Like Turbonegro meets The Pirates" 
Ringmaster Reviews 
"Train Wreck powers along with a rhythm like, well, a run-away train. A hard rocking, ass-kicking, slab of brilliance" 
Black Velvet Magazine 
"The high-speed intro that really does sound like a train heading down the tracks toward you." 
Moshville Times 
"Trainwreck is an amusing commentary on internal band politics. The retro melody packs out a sleazy swagger to complement the chaos." 
Photo Groupie

As heard on Planet Rock, Kerrang Radio, TBFM, Total Rock and many more!