Chapter Zero Single Review - Phoenix Musix Online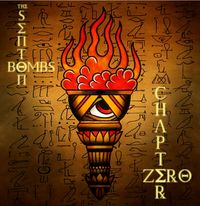 From: Phoenix Music Online
(January 2015)
From the opening chords of their single 'Chapter Zero', this track grabbed me and had me dancing round the room.
'Chapter Zero' is also the title track of The Senton Bombs'latest and third studio album. If it's an example of what their album holds, I look forward to hearing more! The Senton Bombs call themselves as a 'punk-inspired metal band' – an accurate description, but that doesn't tell you that this track is also bouncy and catchy in a down'n'dirty way.
Joey Class (bass/vocals) fronts the band with a snarly, yet melodic vocal style, ably backed up by Damien Kage and Johnny Gibbons on guitars and backing vocals. Scott Mason keeps everything together on drums. Formed in 2004 as The Terrorists, the band released four demos between 2005 and 2009, following these up with albums in 2010 and 2012.Hailing from Blackpool in the UK, The Senton Bombs havealready amassed a following on the live circuit, which I will be adding to as soon as I get the chance.    
'Chapter Zero' is a great example of the latest in the punk/rock genre. It's obvious to draw parallels with Green Day, but dare I say, fans of Aerosmith and Appetite for Destruction-era Guns 'n' Roses will like it too.
Lambination IV Compilation Review - Fungalpunk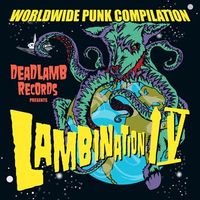 From: Fungalpunknature.co.uk
by Fungalpunk
Disc 2 Track 9 - Do Your Job
The Senton Bombs are another band I have shot my gob off about from the early days and no matter who doubted, who shouted me down, I stood by this lot because I knew they had the potential - quite humbly I point to this sample as proof to back my loyalty. 'Do Your Job' is one of many pinnacles this rocked up, non-punk band (thank goodness) attain whilst injecting their pure identifiable sound into the sonic arena. It is no coincidence that many are now waking up and smelling the skills of this crew and I for one am happy about that - they fully deserve it. Again fine gents and fine fiddlers of their weapons (oh come on now you know what I mean). Powerful, intricate, blistering - fuckin' step outside t
Gambit Sampler Review - Fungalpunk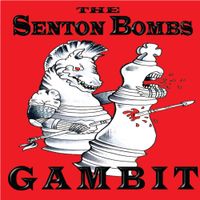 From: Fungalpunknature.co.uk
by Fungalpunk(March 2012)Featuring: Experiment, Do Your Job, Hooked
The Senton Bombs are awaiting to release an album and so, in the meantime, I have been given a 3 track sampler to run my lugs over and duly criticise. The band I know well, their music equally so and after a year taking care I expected much of their return. Without debate I gave them an initial gig and they displayed that they can still rock a joint, still have that fine spirit and are now producing the goods again - and some! This is my take on this choice morsel and when the album comes don't say I didn't tell you so!
'Experiment' immediately packs a punch and signifies the fact that the band are determined to up the stakes both technically and as a mean driven force that is rammed with accomplished acoustic moves worthy of a band destined for bigger and better things. The guitars are right at ya and the drums invigorate with amphetamine action whilst front man Joey is dripping with vocal juices and screwing out a sleazy easy drawl. The song wriggles around with many abrupt sinewy switchbacks and well timed pauses and thus giving the listener much to ponder. When in full flow the cacophonic cape is billowing with inspiring unfolded colours and we reach the finale with extreme gusto and success. The opening number may be good but 'Do Your Job' is a fuckin' monumental moment with the band battering away at your will and forcing you to accept the onslaught as nothing less than a classic. All components are fully charged with the front gob at a new pinnacle and driving this effort into a new stratosphere. This is a fuckin' trustworthy band and with choice solos, stunning stick work, great regular and irregular riffage and just a construction to bleed for we have proof of everything I believed this unit to be. The production value is lofty and the running time trimmed to an ideal length. One thing the band may have been guilty of in the past is hanging on to a winning vibe a little too long - not so here - wonderful judgement comes with experience. These guys are doing a job - and in fine fuckin' style!
The last tasty bit that comes served on this silver platter is christened 'Hooked' and again has sincere artistic application, good eye-opening musicianship and...passion! The rise in stature is sensually attractive and the sexualised grind to the whole song is the throbbing nobber that bursts from the vulgarity of the spandex kecks. The crawling caress of the cacophony will tease and please and again The Bombs show they are back and hungry for some acoustic orgasms - open yer orifices.
I love the band, love the new found hunger, love the lads as individuals - you should too and here's wishing them great success - get yer album orders in now!
Gambiot Album Sampler Review - Rock Productions Enterprize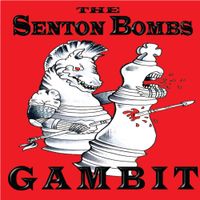 From: http://rockproductionsenterprize.webs.comby Matthew Seddon (June 2012)
Featuring: Experiment, Do Your Job, Hooked
The Senton Bombs are in the process of getting ready to release their new full studio album entitled Gambit and to give their listeners a taste of the awesomeness to come; they have released a three track EP creatively called The Gambit EP that showcases some of the hot new tracks off of this highly anticipated album. Combining elements of punk, sleaze and straight up rock n' roll, the three tracks on The Gambit EP are some of the catchiest, groove laden songs of the year thus far. Hold onto your hats because The Senton Bombs are back... And they mean business!
Track 1 on the EP is entitled 'Experiment', a drum driven track that simply kicks ass. At just under three minutes, this is punk at its very best, taking a similar approach to songs by the mighty Sex Pistols, Rancid and Stiff Little Fingers - but all in all writing a song that has to be far better than most of the material these three bands have ever written. Lead singer and bassist, Joey Class is one killer punk rock vocalist, putting his flare and musical talent onto not only this song, but every other song on the EP.
Next up on this rocket ride of an EP is 'Do Your Job', which has to be the best of all three tracks. It's such a high octane, punchy and god damn catchy song; full of larger than life riffs and catchy sing along choruses. From the moment it violently kicks in to the final few power chords smashing out, 'Do Your Job' will hook you, making you sing along, bang your heard and throw the horns while you conclude that this has to be one of the most memorable songs that has been released in 2012 so far.
'Hooked' is a very KISS like sounding track. With the opening riff sounding like a cross breed between Deuce and Strutter - this track shows The Senton Bombs, no bullshit, straight up rock n' roll attitude; going full out from the first second to create a slick and glossy rock anthem that will blow your ear drums off the minute it kicks in. It's a brilliant way to end the EP, and if it doesn't have you singing along to it after the first time you have heard it there is clearly something wrong with you.
The Senton Bombs are a rising name in the UK rock and metal scene and hopefully once the full Gambit album is out within the next few weeks, we can be expecting the rise to the big league of one of the UK's hottest punk bands since the Sex Pistols!

8/10
Turn Heel Compilation Review - Fungalpunk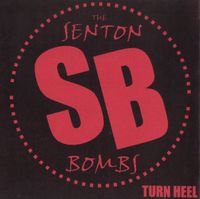 From: Fungalpunknature
By Fungalpunk
Swaggering punk cum rock here with a melodic mix of adrenalin rush guitar, thumping drums and turbo bass that is thoroughly infected with snarl 'n' sneer vocals of the effective kind. There's a whole watershed of influences and styles thrown into the mix reflecting the bands appearance and holistic delivery. I consider this an educated and cultured concoction with careful insight taken into each and every ingredient before it is thrown into the melting pot. Each song has its own character with many idiosyncracies and punky pustules all adding to the final tingle and thus highlighting a band that have a whole lot more in the locker than they are given credit for. Not all work for me but most do so and that folks is opinions for you. With concrete foundations and a talent for composition this assortment of aural energisers has taken many a listen and with trepidation I attempt the review.
'Buy Me A Gun' bullets in with a rat-tat-tat crescendo before opening up full tilt and blasting brains in all directions. An explosive track armed to the teeth with on-target rhythm and sincere vibration. The vocals spark with emotive passion, the drums are additional ammo and both guitar and bass power surge. An immense curtain up and 'Rogue Style' confidently asks you to 'get this' before steaming in with cool aplomb and measured aggression. The arsenal of assorted weaponry that hurtles forth is cloaked with rock, punk, metal and glam poisons all tussling to give the most intoxicating effects. The sonic podium is mounted and the consistent mix comes across well with a few u-turns taken to keep the listener keen. 'My Girlfriend Was A Nazi' (must have been the small black moustache that gave the game away) is a beefy piece of hairy chested tension. It's an extremely unexpected blow-out and already the categorisation of this unit is a tricky task - success indeed.
'Justice Lost' displays just why this CD has taken such a lengthy time to review as there is a lot to absorb and evaluate and also a fair amount of these songs are not instantaneous brain ticklers thus needing acute consideration before the nib rapes the paper and assessing words are scrawled. This track comes across with an essence of forethought and confident posturing although it does have less in yer face bursts than other grenades. 'Charlotte Ann' has a cocky edge as it eases in with casual drums and funked up guitar. A ready rumble is had but a very cock rock inflection is given that defies punk and slices it right open, tattooing the inner flesh with grooving rock rhythm. It is a rare sound in a scene that is as diverse as they come but I can't knock it. Individuality is a prize characteristic and hats off to a band who are unashamed to be different when so many critical pirahanas are waiting to feed. The spiteful resonance helps this track to cross barriers and the heavier tones of 'Surf 6-66' crashes waves of metal shards and slips in nicely.
'Fame And The Wicked' is an atmospheric buzz of relished vocals that undulate with passionate inflection and are the moment when one realises we have a quite accomplished band here that are led by a superior frontman who really is a rock 'n' roll dude to the core. You can almost feel the guy lose himself in the billowing blasts of sensual sonics and this is a good song indeed. 'Nightbreed' pulses with computer-like insistence and overspills into full rock imagery and loses some of it's punked up edged suffering as a consequence. From a dish of tasty morsels these are the Crab Clit Crackers one may enjoy or leave at the side of the plate. Personally I'd have a nibble now and again but really it misses my flavour haven completely. 'You Live, You Buy, You Die' is back on line as the sanguine delivery takes precedence and struts along in classy mode with a catchy chorus to boot.
The final quintet is in no way as striking as all that as gone before and this is a shame as the band I feel could have gone out with a real fire-cracking burst. 'Silencio D' Amor' opens with sincere class but drifts along without committing itself. 'Violet Black' again begins slowly this time with a sinister calm before an obvious storm and is not a bad piece at all. It is one of those that you have to listen to over and over before definite opinion is had. However I may wake up tomorrow and say it's shite - you know the kind of song I mean. It does retain focus though and has a flimsy likeability which has a small level of depth and therefore I suspect longevity. 'Sons Of War' crashes into the ground and comes up fighting with another machine gun blaze that fails to be backed up by a violence of vocal that I prematurely and wrongly assumed was coming. A failing on my part and the verses are automatic rap that I enjoy but the chorus, to my ears anyway, is lost. 'Devils Arrow' is the CD's chilled turd and from the first play onwards I feel it doesn't make any significant stench at all. This is a real pity as the masterclass bass lines are essential listening so if nothing else check it out for the 4-string rattle. We end with 'Road Of Bones' a good solid song that keeps straight and true and neatly caps off a CD that showcases a good band but alas not to their full potential. I say this because the last two outings I have seen this crew were exceptional and I came to expect something momentous.
This is a solid effort but please believe me when I tell you that these guys have a real classic in their bones and are on the cusp of delivering just that. It will take time, advice and a lot of pedantic twiddling but I bet you these guys do it. In fact go check em' out first and enjoy a great outfit and see if you agree. Oh and why you are watching em' pick up a CD afterwards - you may just like this!