Sweet Chin Music Album Reviews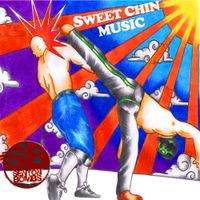 From: Fungalpunknature.co.uk
By Fungalpunk

Scissor kicking punk 'n' roll delivered with articulate excellence and astonishing accuracy The Senton Bomb beast is a creature not to be underestimated. Alas this sordid scene is full of blinkered boneheads caught up in the trappings of less effective rhythmic webs and so miss out on quality expulsions such as this. This band are carving out a reputation in the underdog circles and it really should only be a matter of time before they slice their way into the underbelly of the sow of success and reap the rewards of their obvious talent. The fact that the SB crew don't conform to what a punk/metal band should look or sound like may affect them and if it does it only shows the actual lack of punk ethos out there. Too many uniformed stereotypes that are affected both in costume and thinking - wrong, so bloody wrong. Judge music on spirit, attitude, commitment and listenability and nothing else - just like I am going to do here.

Sergio Leone Mexicana opens this 14 shot shoot out and drips forth with a high dosage of anticipation and of an impending explosion. The tension becomes agonisingly taut as the first screwdriving guitar drills hard into the consciousness and one is glad when the rolling drums opening the floodgates into the climbing roars of a band intent on making one helluva impact. Fantastic stuff that climbs to the top rope and comes slamming down with mean, man-bitch intent. The vocals snarl and scratch before a thumbscrew guitar minces melody and leads into the almost victoriously boastful vampiric chorus. This opening effort is a brave move because at 5 minutes 30 seconds even the band must surely be aware that it will test the patience of the strictest punk dude. I like this fact though because having a slight insight into the band I am more than aware they won't stick to certain cretinous criteria that dictates, sometimes wrongly, what and what not a band should do within a given genre. Anyway the song doesn't seem overly long to me and so proves what a good opener it is. I particularly like the final shotgun blasts that close this piece - very confident and self assured just letting you know there is no escape from the Senton Bomb power. The head is straight down and racing forward as 'Little Something' sleazily asks that little question behind curled up lips dripping with hidden agenda. The band are in the zone with the bass providing a sound foundation for the exciting guitars and drums to bounce upon. The grind and blind intensity becomes whiter with each thrust and the sonic fucking our ears are taking at this point is unadulterated and very sinister. Sleazecore with balls bared this one bites with subtlety but leaves a scar to satisfy.

No sooner have we stopped panting from the recent rhythmic rape than our attacker is up and dancing around the acoustic bedroom with a glorious ringing erection that glistens with its own tuneful triumph. The jive is most definitely 'up yer arse and in yer face' here with a 3rd song ideal to compliment its counterparts and prove that the zenith reached so far will be maintained. Gimp cum oxygen masks better be worn because the overwhelming tension applied leaves no room for air with the sonic soundscape saturated with rockin', boppin' sperm. A nasty description for a nasty noise - the whispered moments only unsettle more and hold insidious threat. Be scared and hold onto your bollocks! 'Semper Fi' starts with a marvellous punked up cavalry charge backed by big fuck off drummology and guitar strobing hypnotism. Still ' ever faithful' to their own sound and audience the Senton Bombs do enough here to push boundaries and please the peripheral punter. I think the energy exuded so far is testament to a superb band who are sorely under-rated and reckon these four hand grenades will blow them to the fore of many a persons 'bands to see' list. From the opening blast of this latter track it is a case of listen or get trampled underfoot. The sound drives, throbs and digs in with frenetic fits and bursts - a mighty mix but all brought together to make another giant effort.

'Jersey Dolls' is a track from the recent SAS compilation which says enough but, just to add, this free-flowing piece of shady sordid sonica is a driving delight that prizes its way into your swinging psyche and forces one to rock. This is fairly typical Senton Bombs ejaculatory produce and impregnates the punk soul every time. 'Superkick' creeps along with predatory stealth before frontman Joey lets it all hang out with an emotive range flooded with inner belief. There is a hidden malevolence as the strings shiftily drill away whilst the vocals squeeze the entire life from all the reserves of inner passion - go boys go. Oh by the way this was taken from Wilkpedia - 'A superkick is the name used when referring to a high side thrust kick attack in professional wrestling, which sees the wrestler use the sole of the foot to strike an opponent's head or chin, usually preceded by a sidestep, often referred to as a crescent kick, or just a side kick.' - so there you go.

More grooving with 'Anaconda Vice' remarkably a song that has sweet fuck all to do with wrestling. It certainly grips on to my attention and seems as though the band are just rattling off red hot tune after red hot tune without thinking. I am thinking AC/DC drops Viagra here as the sexed up sound screws with a metalised member liable to tear your aural anus inside out. I can here the shouts from the pit now from rock 'n' roll starved deviants - 'deafen me baby deafen me now!' The song has the odd break to recapture breath and a sweet tinkling melody throws another facet our way. I like the unpredictable nature we are getting thus far and am wondering if a slip up is in the offering. Sadly for me there is, with 'Cowboy Christ' a song that just passes me by without so much as wafting my willy! There is some good musical work going on but the persistent stop and start slant has me frustrated and reaching for the 'skip' button on the CD player. The song is, and I quote 'a cool religious satire on the return of Jesus in cowboy form' - mmmm - Big Chief Shitting Fungal says 'tell the cowboy not to bother as the track playing in the saloon ain't no winner.' The weakest of the lot for me and although once again mixing things up it just doesn't grab ones attention. Feel free to disagree though!

'Montreal' pumps away with a narrow-eyed focus before a pressurised tone intervenes thus confronting the regular and coming up smelling slightly different than expected. 'When The Sky Falls' is crammed and rammed with some twisting riffage saving the day. Call me fussy, call me pedantic but even though this is a band I adore, I feel at this point the CD needs a super duper bomb blast to start the closure in big, big fashion. Here we have reached a very pleasing plateau and levelled out which is all well and good but Fungal's greed for excellence requires more. If it were any other band I may have carried on regardless but for me The Senton Bombs ooze talent and I for one know there is a lot more in reserve and want to squeeze every last drop out of this lot. Twat hey?

'Bloodshot' and 'Born To Ride' both have nice textures that are smooth yet provoking. The band are in their own safety zone at this point and this is a brace of songs to sit back to and just flow along with. A brief solo burst, the consistent rock, the cute switches and swaps and the now expected man-whore vocals and we are coasting along an open freeway that can take this outfit wherever they want. Again the Bombs have the chance to slip into clichéd gears and produce noises that are predictable and non-productive as regards their cause and individuality. Thankfully they drive in their own admirable way burning rubber and eardrums in equal proportion.

'Contaminated' is a polluted slut that has sonic semen splashed within the walls of the pulsating rhythmic vagina and once again we have a sexualised grind liable to strip away our resistance. There are hints of glam thrown into this mix (as is the case elsewhere) with loose prostituted string work played to pornographic perfection. I like this one and it leads us into the final explosion entitled 'Somewhere Else'. It is in fact a solid end whipped up and ridden to the finishing line with aplomb. The stops and starts are well timed and the frantic finale shows the band are just ready to get out there and show the world what they can do.

So Fungal has done and dusted with this one and is very pleased with a band he undoubtedly believes in and wishes all the best for. Sure I found a few areas where the band can improve and a few songs that don't gratify my own noisy palate but hey, that's reviewing music for ya. The Senton Bombs stay on my list of fabulous bands and if you ain't seen these dudes in action yet than get to it. Take and extra few quid too and pick up a CD - the diversity may be to your delight.
By Woodstock Punkrock

The Senton Bombs Hail from that calm quiet seaside town known as Black'muthafuckin'pool where there is a pub every other building and scantily clad ladies on every corner, so its no surprise that a Band like The senton Bombs should emerge from this town, what is strange is the length of time it has taken these boys to record this CD (5 years!!! its like Guns and roses……lets hope the end result is better than GnR)

My Blood is Red -- Starts with the rain falling, a gentle stream trickles and the acoustic guitar drifts across the landscape, this feels like the end music of a apocalyptic horror movie when all is ok or is it?....

Nooooooooooo its not bang like the Loser hitting the canvas the victim of another elbow drop the first Track cuts through  and blasts all memory of the intro aside and as the track builds it is forced onward by the oooooooooooooooooh vocal build up, Good mix the Drums could do with having a little more volume in the mix but other than that great Joeys Gravelly drawl is infectious and very different to what you are used to Love it!! Twin guitars of Damien and Johnny just tear THIS TRACK APART, THE TWISTING BACK AND FORTH NATURE IS JUST GREAT AND AS AN OPENING TRACK IS A WINNER....

Little Something -- This is a rocker, and I loved it when I last heard them do it live again the two guitars punch thru like a turbo charged truck on the highway and as with all the tracks on this CD the bass and drums are just so in tune with each other and tight they cant go wrong fantastic, I like the use of the bottle smashing sound effect nice touch and good solo Although personally I would of liked to hear the guitars cranked up to 11 and blistering on the edge of feedback for the solos on all the tracks on this CD and finally before I move on I like the breakdown where the music drops back to just the drums short and sweet this one....

No Return – Starting this song with a stuttered guitar and pounding drums it soon breaks into another steady rocker with some great guitar licks and some very accomplished drumming, the build up to a dead stop in the chorus is great and slams you back into the verse perfectly I especially like when they go into the quiet section drums drop out Joey gets up close and personal before bursting back into the full song slightly slower pace than those before but just as effective

Semper Fi – Okay it's a rocker this one very 80s stylee with the stripped down verse alternating between guitar riff and vocal line then they all kick in for the chorus, a bop along sing-along chorus it is too, love the way halfway thru it looks like its finished just like the guy staggering round the ring apparently finished when suddenly bang its back on big time great song....

Jersey Dolls – Oh yes this track takes no prisoners it packs a mighty punch from the wonderful little drum break intro to the guitar-scorching riffs and the slick grindy bass riff this is a winner yet again another Sentons canvas slammer....

Superkick – Arrrrree youu ready to rummmmmble this is a great little bluesy ditty, rocking from start to end with the guitars and bass all following the same riff during the main verse dedicated to Mr Heartbreak kid himself Shawn Michaels in my opinion the second best technical wrestler ever who funnily enough's finishing move 'sweet chin music' was basically a kick in the face haha very technical unlike this song which is nice and technical....

Anaconda Vice – the pace drops down slightly here and we get a slippery New York dolls esque rock and bop tune with a great rhythm that makes you nod ya head like a bobblehead the break into just bass and percussive drums before breaking into a nice little guitar riff is just the finishing squeeze good stuff…Next....

Cowboy Christ – okay this track starts ok but the chorus for me seems uncomfortable and not very interesting haha what do I mean well it isn't catchy and if you listen to the song without it sounds better and the drawn out vocal delivery in the chorus I also don't feel comfortable listening to which is a shame as the rest of the song is great and even the inclusion of the lords prayer works for an atheist like me

Montreal – This is the Bombs doing a really punk riff but turning it into there classy sound short and sweet but a great little song about THE best technical wrestler ever Bret the Hitman hart's awful betrayal by the wrestling federation he loved, in his home Montreal Canada, in a match he was to win but they went against him, what wanker decided that in his home country and using his own signature move would be a good result, testament to Bret he never submitted whilst in the sharpshooter the ref had to fake call it, a sad day for wrestling but a good day for music as this simple little song is great at 1.54 it's the shortest track on the CD but very pleasing little punky ditty

When The Sky Falls – back to the rock we go this next song struts along in true bombs style leading to a rocker of a chorus the 80s metal style riff in the verse reminds me of the Nwobhm back in the 80s but done so much better I think the punk heart that beats within the rocker that is the Senton bombs is what takes them that one step up and gives you the Bomb sound, the stripped down guitar build up mid way is great and leads into a neat little solo to finish

Bloodshot --  rattling in this track manages to almost stay completely on one level right thru it is like a good monotone haha if you know what I mean, the vocal is almost whispered or maybe Joey had smoked 80 cigs before recording this one haha works well though another great little tune....

Born to Ride – get on ya Harleys and lets gooo this turbo charged rocker has the Bombs free wheeling on evil gasoline and had me drifting off down that endless highway with the haunting backing vocal and the ominous demonic guitar break a nice little gem

Contaminated – pace drop again for contaminated the rolling bass line and dropkick drums are complimented by the full force power guitar this is a great live track and transfers to the studio very well, full force metal punk vengeance rocks along beneath the steel sky and fills your head leading to the full stop 'we been contaminated' class!! And as the second slowed down vocal chorus line finishes the guitar breaks the silence quickening the pace with the force of a bastard and spills into a shredder of a solo just to bring this quality track to an end....

Somewhere Else – Last track on the CD and its always difficult knowing how to end a CD and this does a good job its not the bombs best and not there worse it's a great song but compared to some of the Class on this CD it is in the middle I like the screechy little bending guitar riff and the class 'senton stop' that works well here and in all the other songs it is used Joey alters his vocal delivery giving it a more urgent edge on this track which is a nice change

So that's it folks 14 tracks of Quality Senton Bombs after 5 years its finally done, you can take a well deserved bow and be pleased the end result is a very impressive benchmark, now get out there and beat it!! I recommend you get hold of a copy from the band five pounds is all you will pay and I also recommend you catch them live the two parts of the senton bombs are equally important and you need to hear the CD tracks live to get the end result I hope the guys finally get the recognition they deserve and I will see them in Blackpool very soon


From: A Man Called Moose
By Moose Man

My first experience of The Senton Bombs was on a Friday night in Cambridge back in March 2009 when they played a Viva La Local event at The Bakers Arms. This shows you the measure of the band, the previous evening they played a gig in BLACKPOOL then travelled down to Cambridge to play and were setting off early on Saturday morning to get to STOCKPORT to play a gig up there.

Impressed by the three lads before they'd even played a note when they actually started their set my jaw dropped as WOW! Their brand of grungy rock n roll fuelled punk was candy for the ears.

So when later in the year they announced that they had finished recording material for their first full length studio album I was champing at the bit to get hold of a copy! I finally managed this when they played at the Spit & Sawdust Mayhem All Dayer at The Thatched House, Stockport just before Xmas. Since then the CD has been listened to once or twice! Was it worth the wait? Let's see.

The CD opens with the sound of falling rain, and an atmospheric acoustic guitar passage which is embellished by a church choir giving you the feeling of a spaghetti western sound track. A bit Black Sabbath meets Pink Floyd and Ennio Morricone. Then at the point where you wonder, 'where is this going?' in comes a high energy riff which builds as the rest of the band joins in and we get into MY BLOOD IS RED. A relative simple construct gives this song an edge and the oft repeated riff motif adds to the sense of urgency. All in all not a bad way too start.

LITTLE SOMETHING - again starts with an edgy riff played by guitar(s) and bass, and I love the sound of a broken glass, the timing is great and whilst adding extra effects to songs seems to be the vogue, it's so nice to hear one done well! But I digress. Top notch heavy metal opening, with a thumping drum best underpinning the song. A song with a dark licentiousness about it. I love it and already a contender for song of the album.

NO RETURN - more of the same great drum work that really is the heartbeat of the song. The guitars certainly start to break free a little more on this track and the vocal overdubbing is more pronounced giving a little more depth.

SEMPER FI - "Always Faithful" the motto of the US Marine Core. An out and out grungy nugget of great heavy metal. I love the riff, vocal, riff, vocal, delivery of the verses. Another song that ticks the boxes for me.

JERSEY DOLLS - is a demonstration of some fine grungy rock n roll with driving drum beats, thumping bass line, fret melting guitar and awesome vocal delivery. A track that sums up the essence of The Senton Bombs.

SUPERKICK - an unabashed homage to WWF wrestler Shawn Michaels (The Heartbreak Kid) and one of his trademark finishing moves - the super kick, and although it was a move with which 'Gentleman' Chris Adams' is credited as bringing to the ring, it was Michaels that made it famous and many opponent heard some Sweet Chin Music. The rumbling bass line is brilliant and sets the tone for the song. SO I guess for guys that describe themselves as the Kings of Wrestle Rock, a song about a wrestling move is not unexpected, nor that it provides the title for the album!

ANACONDA VICE - another excellent slab of grungy bluesy rock n roll and another song named after a wrestling move - the Anaconda Vice - which is a Brazilian Ju-Jitsu and Judo compression choke. It is also called the arm-trap triangle choke - can't say I'm that fussed too know that, but what I do know is this another quality song! Nice to hear the guitars show their softer side briefly.

COWBOY CHRIST - took me a few listens before I found the hook, and it has, now, started to grow on me. I think what threw me was the move from a std 4/4 time verse in to a more syncopated rhythm with the drum appearing on odd beats, but once I picked what going on it fell in to place. Love the use of the Lords Prayer in this may be someone needs to send a certain Knight of the realm a copy of this to show him how to use a prayer in a song or there again fuck him. Probably my least favorite song of the 14 on offer, but it's in no way a bad song, it's just not pushing all the buttons.

MONTREAL - back on to the wrestling theme with this next song and tells the tale of how BRET "THE HITMAN" HART was screwed over by the head honcho of WWF, Vince McMahon, when he changed the ending of bout between Hart and Shawn Michaels being fought in Montreal, Canada, Harts country of birth. Even the ref was in on the sting and although HART did not submit whilst in Michaels 'Sharpshooter' hold, the ref called for the bell, this ending the bout and handing the WWF championship to Hart.
So that's the back ground but what about the song? A winner by two falls.
At this point I will say I wish the lads had put in a lyric sheet, although I can pick most of Joey's vocal delivery I did struggle on MONTREAL. It's alright for these youngsters, but us old folk need all the help we can get.

WHEN THE SKY FALLS IN - another slice of heavy rock n roll pie with a side order grungy punky goodness. Great driving rhythm, excellent guitar work, and another song with a simple but effective construct. Look at for the passage where the boys turn off their overdrive and distortion pedals.

BLOODSHOT - Be still my heavy metal heart. A track that would grace any album of any of the big boys in the heavy metal pond and if wasn't for one the later tracks this would be my track of the album.

BORN TO RIDE - from the double kick bass drum through to Mr Class's vocal this song is another classy addition to what is turning out to be a damn fine first full length album.(Mind you with 5 1/2 years under their belts you'd expect a decent level of quality).

CONTAMINATED - AWESOME. What a song. Has a real glam rock feel about it. An absolute gem of a track. Rumbling brooding bass lines and great guitar riffs really gives Joey the foundation to deliver a vocal as only he can. MY TRACK OF THE ALBUM!

SOMEWHERE ELSE - and so the last track and its back to a great piece of grunge infused rock. The pauses and unaccompanied vocal sections in the song work well and give an already good song more texture and dimension.

And so to answer the question I asked earlier was it worth the wait? Abso-fucking-lutely Bob!

These boys may lean more heavily towards the metallic rock n roll and grunge side of the genre, but they have the punk ethic and attitude, and they are one of those bands that can play in both the punk and more rock centric arena's and be accepted by both.

Apart from the lack of a lyric sheet the only offer thing i will say is the studio process has sanitized the bands sound, as digital recording is apt to do, and you don't get that really raw edge they can produce when playing live. But that's the thing, the studio is for creating a moment in time that can played again and again, but the live arena is where an decent band will shine, and THE SENTON BOMBS are NO EXCEPTION to this.

Lets hope it's not another 5 and a bit years 'til the next studio offering!
A fine CD from and fine band and fine, decent set of lads in to the bargain.
So, get your hands on a copy of this CD! Better yet rather just contacting the band, go and see them live and buy a copy of them after the show!