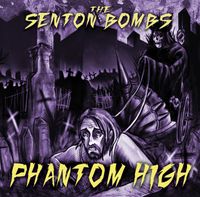 From: TBFM Magazine
By Stevi Rox (September 2014)

It's turning into the year of great EP's, with a plethora of great releases full of sleazy punk rock n roll goodness to keep us bouncing like a couple shagging on a trampoline! First up has got to be those lovely Blackpoolians 'The Senton Bombs'. Yes indeed these ROXX show favorites have done it again, after last years 5/5 'Chapter Zero' album, it's follow up 'Phantom High' takes us down the road of rock paradise with a mixture of great influences but more importantly a sound all of their own.
This new five track EP kicks in with the 100mph punkrocking title track 'Phantom High', proving they have lost none of their edge, it's powerful and of course catchy. Next up 'Lights Over Phoenix' is a mid paced wonderfully laid back singalong tune with a classic rockin guitar solo, I'm thinking early Green Day mixed with Def Leppard, hope the Bombs don't hate me for that comparison! It's a fantastic pop-rocking tune with a marvelous chorus, possibly the catchiest song ever written!

The band has produced another EPIC tune, so soon after the last EPIC tune, welcome to the world… 'Black Chariot', a chill runs down my spine as they again get me hand clapping, foot tapping and swaying. Joey manages to sound different vocally as we have yet another country tinged rock epic with a beautiful passion filled guitar solo, peaking with jaw droppingness, before slowing down to a brilliant climax, it's another lyrical masterpiece and with added bonus of female backing vocals, naanaanaaaing, simply a charmingly wonderful song.

'Passions Of The Passive Aggressive' – with it's groovy riff, soon turns into a trademark strutting Bombs punky metal tune with the usual short kick ass guitar solo. Again kudos to the band and producer for bringing together an excellent sound. The drums kicks into the final track 'Surf 6-66', similar paced to the opener, but more of a Ramones type pop/punk song finishing this little EP of perfection. Another riff laden 'catchyasfuk' tune has me roxdancing around the room and pressing the start button to listen again and again and again…
 ☆☆☆☆☆
From: Studs & Punks
By Woodstock Punkrock (August 2014)
 
Well here we are another release by the Blackpool rock..ers, and excitedly anticipated by me, as over the years I have known them the band has, grown and morphed, from there hard rocking, punk rocking, wrestle riot power days, through the long ride on the metal hogs to where they are today, where are they today I hear you ask? Well there last full length album was a very Grown up, long pants, highly polished Rocker, I did and still do love the album, but for me I like the middle ground, I like it when they Rock hard but also give me that snarl of punk.

I was recently talking to someone at a gig who said they had read a recent CD review of mine, that's always nice to hear, but said it didn't make them want to buy the Cd because I obviously am friends with the band....? Ok now I kind of get what they mean, but in my defence I will say this, just because I like a band as people doesn't mean I will just say there great, what possible use is it to anyone to just say everything is great?, no one will ever progress if always told there at their best, especially when there not, in my opinion, after all this is just my opinion, I try to be as honest as I can with everyone, it's what I want people to do with me after all, So on that note, I have known The Senton bombs crew for a number of years, we have rocked, drank and generally lived it up together on several occasions, and will hopefully do so again soon, so Yes I love these guys and if that puts you off reading on, fair enough skip to the end and move on, for those interested in the honest opinion of a Music lover and Bombs Fan, read on please.

PHANTOM HIGH

Right the squeal of a Warning that the Bombs are here soon bursts into an upbeat rocking riff, plenty of rock n roll and the oh so infectious punk passion is back in the house, Joeys trademark gravel edged voice ploughs us through the verse with passion and angst, the fast pace pushes into the equally paced bridge and as the Shedding skin feels like peeling plaster,  we hammer into the chorus, gang shout of the title at the end of the lines of the chorus, adds extra rise to the already airborne track, and as the bomber flies in to the solo, I am salivating at the power in the guitar as the solo shreds along, nice!! As on some occasions I have felt the recordings and especially the guitars have lacked power on the tracks, but not here, fuck no!!!, we bang back into the chorus and all too soon the first taste of this ep is done, and has certainly left me feeling explosive. (Are you not impressed I didn't mention any dreadful B-movies about Ghosts in High schools ha-ha?)

LIGHTS OVER PHOENIX

As the jumpy little guitar tickles your ears, I wonder what we are gonna get here, it's only when the song breaks through the clouds that we find we have a Heavy pounding rocker, the chugging guitars nicely coating the pounding drums and rumbling bass, with Joey, gruff and gravelly but with a soft edge like a peach with spikes, there is no way you will keep this magic in the shade, the chorus is sweet and you just have to join in like def leppard with bollocks, the pace stays in the middle, but it keeps you nodding and moving, all it takes is a few grenades after all, siren guitar announces the arrival of the guitar break short and sweet and after a brief vibrating interlude we burst back into the chorus, building, building multi vocals, guitars all enhancing and caressing the track to its end, a different burst from the bombs here but just as welcome as track 1.

BLACK CHARIOT

Right it's the halfway point of this 5 tracker, the longest on here and at 4.59 I hope it doesn't have me riding out of town on my Black chariot, as the soft guitar enters you could think this was part 2 of the Darkest Horse from the Chapter Zero CD, as the western, zztop edged riffage is back, with alter ego vocals, with no gravel and in someways sounding like a generic American western rocker, this takes some getting used to, I loved Darkest Horse as it was a very accomplished and highly polished slab of music and in many ways this is similar, the dusty, leather chapped, cowboy boots, moustaches soaked in whiskey and smoke curling from the cigarette in the corner of the mouth all swirl from the atmosphere of this song and with a great story told by the lyrics (another great thing about the Bombs, there lyrics.) but for me there is something niggling at me, is it the voice?, is it that this was done better by the Horse? Or have I just been spoiled by getting some punkage in the Bombs and so this seems a little too rock for me? Haha, it certainly gives this CD a great cross section of styles, can't deny that, and as the guitars build with more little riff ends it keeps you listening, haunting backing vocal adds an eerie edge and the whistling at the end is a superb touch, but still it's a 6.5 out of 10 for this one, now the boys may find that harsh after I was so in love with Darkest Horse, but its because of that very song I have to be honest and say it feels like a lesser version of that, it is very well put together and shows a very grown up writing style, but isnt as good and  I yearn to be a kid again haha.

PASSIONS OF THE PASSIVE AGGRESSIVE

Bang bang goes the drum, duh duh go the stringed ones and as the sneer of gravel fuelled anger spews forth, the Joey I love is back, straight backed and full of Jack Daniels, this is so sleazy like a sound bite from a strip bar, mouth is shut but your body's talking shit, again the pace is set slower but works perfectly for this, lovely harmonic squeals fly from the guitar and have a bead of sweet honey dripping down your back, winding and winding up and then slams back down to the riff again for verse 2, solo!!!! Not one but 2 shredders, a 2 guitar caress and back to the song, Joey really gets into the sneering anger of this, and the moments when his voice just breaks and a squeak ends the words is another moment of joy, hey no way Brutus will stab you in the back on this one, it's a winner

SURF 6-66

So here we are last track on the Cd and what a ride it's been, so it's fitting we end with a full on, balls to the wall rocker, from the short machine gun burst drum roll intro we fly into a chugging, heavy beated rock verse, builds through the No way bridge with its demon repeat vocal, into the wave of the chorus, there is no way you can surf 6-66 today, but you can rock out to this slice of Bombage, the track it just keeps getting better, from the rip roaring riff of guitar, the pounding rhythm section, the demon backing and Joeys rockstar vocal, with the bass break, solo, stripped down mellow moment of 6-66 pleasure to the end, a dead stop from rock to silence, no drawn out exit just Gone.

Well there we go the Senton Bombs New 5 track CD is done and for me overall a plus, I am a Happy bunny because they have dropped their American punk influences back into the mix, but also added a few new style gems to the mix and over all this is another step forward, look forward to hearing some of these tracks live next time I manage to see the band, as always a pleasure to listen to 4 great and accomplished musicians rock out some new and thankfully still exciting songs, with as ever some Powerful and well written lyrics, conveniently printed in the cover, I will let you discover and make up your own minds on what the story, meaning is behind them, after all we all will have a different connection to them, just like the tunes.Anyway I am off; get yourself a copy of this CD if you like good, catchy rock, with punk and Gravel galore and a big dose of BOmbage thrown in for good measure.

8.9/10
From: Ringmaster Review
By Ringmaster

If there is one thing predictable about UK rockers The Senton Bombs, it is that they will persistently offer feisty dirt encrusted, punk fuelled rock 'n' roll. You can always assume a fresh fiery breath driving each and every offering unleashed by the Blackpool hailing quartet too. It has so far been that way since the band's first album, Sweet Chin Music of 2009, and it continues with new EP Phantom High. Consisting of five diverse songs all bred from punk 'n' roll aggression and carrying a hard rock swagger, the encounter is quite simply an attitude loaded stomp of raw and feverishly flavoursome rock 'n' roll.
Formed in 2004, The Senton Bombs has been a regular draw of praise and increasing attention thanks to their passion driven live performances and trio of albums, of which Chapter Zero in 2013, brought the thickest wave of acclaim yet. You know what you are going to get with the band; sounds and songs which devour the energy out of the body and feed the instinctive rocker in us all, but equally each of their releases to date has pushed the band's music and invention in bold strides and ahead of the band's fourth album later this year, Phantom High is exactly the same. It suggests a new strength of diversity emerging in their songwriting but similarly an even more potent roar and snarl of the rock incitement which sets them apart from most.
The EP opens with its title track, and from the initial sonic scythe of sound, swiftly has ears, feet, and emotions engaged in its adrenaline soaked charge. Vocalist Joey Class uncages his recognisable and alluring tones almost as soon as riffs rub invitingly on ears and rhythms jab with eager intent. Guitarists Damien Kage and Johnny Gibbons proceed to weave a bait of aggressive riffery and spicy enterprise as the track continues its contagious stomp, a solo especially tangy on the ear, whilst drummer Scott Mason and the bass lines of Class sculpt a frame to it all which is anthemic as the roar of the song itself.
The track is an irresistible persuasion and straight away matched by the similarly outstanding Lights Over Phoenix. Whereas the first song was a riot of dirty hard rock and aggressive punk tenacity, the first single from the EP is a more pop punk seeded infection. Small but potently coaxing riffs are aligned to the equally mellower delivery of Class' sandy tones, a tempting entrance which instantly has ears keen and toes tapping. Bass and beats need little prompting to add their punchy contributions soon after whilst the guitars flame and entice with gripping eagerness and temptation. A more restrained but no less addictive romp to the first, the track strides with unbridled infectiousness and tantalising enterprise creating an encounter sounding vaguely like a mix of Turbonegro and Hagfish, but ultimately all Senton Bombs.
 Black Chariot slows the energies down if not the enthusiasm for the release next. It is a blues rock spawned prowl, employing more classic and southern rock flavouring than anything they have bred before. The vocals are impressive, cleaner and clearer than those usually offered by Class and just as compelling. Whether it is Class leading the song, or another of the band it is hard to tell but easy to hope they are used more ahead but only in tandem with the dirtier delivery.
The excellent croon of a song allows a breath to be taken by the listener too, enabling a restocking of energy before Passions of the Passive Aggressive unveils its own blues rock inspired bellow of aggressive and chest thumping, belligerent rock 'n' roll. Actually the song does not really explode at any point but through its taunting stalking of ears and urgent eruptions of intensity and scorching voracity, it again has limbs, neck muscles, and emotions inflamed.
Phantom High is finished off by the excellent Surf 6-66, again hard and classic rock thrust into incendiary punk ferocity. Think The Ramones embroiled with Mötley Crüe and you get an inkling of the lingering devilry bringing it all to a mighty close. The excellent song epitomises the EP as a whole, The Senton Bombs sound we have come to eagerly devour navigating new variety and insatiably captivating waters.
Phantom High is not a stop gap release before the band's new album but a massive teaser of bigger and bolder things to come from the band giving further evidence that The Senton Bombs are one of those shaping a new heyday for British rock 'n roll.
From: A Man Called Moose
By Moose Mann

After the excellent out and out rock fest that was CHAPTER ZERO I was interested to listen to this latest offering from one of Blackpool's finest bands. Where will this musical journey take us?

01 PHANTOM HIGH
A sustained guitar signals the unleashing of the hounds on the opening/title track. Launching in to a trademark romp of pounding drums, substantial bass and driving guitars it is topped off with a vocal line delivered machine gun style,foot firmly on the accelerator, in classic Class/Bombs mode.
Whilst the subject matter of the song may be ephemeral– the sense of elation the song produces is very solid and very real bordering on ASMR (Autonomous Sensory Meridian Response).
Full of energy this captures the essence of the bands early days. Lyrically , as previously mentioned this is classic Bombs. Great rhymes, clever rhythms and even  uses  Descartian principle as the basis on which to define the Will-o-the-wisp that is a Phantom High.
"It's not think therefore I am
Not quite I am therefore I  think
Minus the thinking. Minus the thought.
I AM. I AM. I AM. I AM!"
Mixing the maturity of more recent work with the raw energy of earlier material this is a great way to get things started.
02 LIGHTS OVER PHOENIX
Telling the tale of the UFO sighting(s) over Phoenix in 1997, this lifts the foot off the accelerator a little. Simple guitar intro, followed by the first couple of lines of the opening verse, before bass, drums and guitars all combine to move this along at a steady pace.
Once again the lyrics are of note with the each line in a verse rhyming on the same sound. The chorus is a more standard anthemic affair which gives the song a strong hook for the ears to grab on to.
This is a track that shows the band in full rock mode. Lots of layers and textures that are woven in to the framework with backing vocals and guitar fills and embellishments that have purpose and give great depth.   
A definite foot taper!
03 BLACK CHARIOT
What do we have here? Slow, smouldering, brooding, moody, grungy and bluesy! Another song in the Chapter Zero mould. Those of you familiar with that album will notice a similarity in style with this track and the excellent Darkest Horse.
This will be the track you either love or hate on this EP. 
Me personally? Gets my vote!! I like its sense of foreboding and darkness. 
The drums are simple, sedate, yet sublime and the power and energy invested in each strike more than makes up for any lack of pace. The guitars play off each other nicely and the solo is simple, from the soul and fits so well.  The vocal delivery is Joey's "alter ego" best grown up A.O.R and this song I don't think would work with his more usual singing style.
Lyrically this is typical blues territory – a man's soul versus the power of evil forces. Reminds me in a way of the "Devil Goes Down to Georgia" although in this version the ending has a reality update and the devil rides off in to the night with his prize!
A great example of how the band has developed over the last few years.
04 PASSIONS OF THE PASSIVE AGGRESSIVE
This returns the listener to much more familiar territory.  This has a drive and urgency that gives the impression of real pace but the underlying beat is a fairly standard 4/4. A musical trick which bands like Motorhead pull off time and again!
Opening with a kick drum and snare combination this is joined by stabbed power chords and bass notes over which a rather tasty riff rumbles and rolls. The vocal is half sung half spoken and oozes attitude! 
On the surface this sounds a fairly straightforward song but good use of the studio has been made and this has been layered to give it great sense of fullness and depth.
The metronomic snare really is the heartbeat of this one and keeps everything honest as it builds towards it rather abrupt stop ending. Whilst bass and rhythm guitar reinforce this foundation the vocal, (and I get the feeling that this one is personal listening to the lyrics!) which increases in angst and intensity as the song progresses, is matched by the additional guitar work and solo which employs some mighty fine down and dirty riffery!
Classic stuff which, like the opening track, has the fire of early material but benefiting from the bands experience of writing and recording over the last few years.
05 SURF 6-66
And this is an example of those early days with this song having been conceived back in 2006 by Joey Class and Jimmy Kage.
Wow! Nothing phantom or passive about this rather tasty morsel!! This aims straight for the jugular! From first to last this powers along on mixture of tight drumming, pounding bass, dirty sounding guitars, some gorgeous solo work and rat-a-tat-tat vocal delivery. The bass line in the bridge put a definite smile on my face with its attitude and swagger – you can "hear" Joey's smile in every note!
Although a very simple song in structure this is one of the most complex in terms of textures and layers and shows off nicely what can be done when you're in a studio. As nice and polished as this sounds on disc I cannot wait to hear this stripped down in the live arena as you can feel the energy trying to escape!
Lyrically very tasty with its imagery of surfing in hell! Sounds like the boys agree withthe late great Bill Hicks who stated "If it's a choice between eternal hell and good tunes, or eternal heaven and New Kids On The fucking Block… I'm gonna be surfing on the lake of fire, rocking out. High-fiving Satan every time I pass him on the fucking shore"
The perfect final track on what has been an EP of varied styles.
This is a band that has always known where it has wanted to be. A band that developed its own sound and style. A band that was not afraid to step away from its initial persona as its members grew, matured and their individual circumstances brought different outlooks on and responsibilities in life to the mix. The song writing both musically and lyrically may be more grown up. The musicianship tighter and more honed. The studio craft at its finest. The one thing the band has retained is its passion for the music and this EP is perfect example of that.The other thing this displays is the band's raw energy and this definitely captures the "mojo" of the bands formative years.
The drumming and bass work thorough out are superb and are the rhythmic canvas on which the band paints its musical pictures. As ever the twin guitars are used intelligently and add rather than detract from the finished article. The vocals, which, not only tell the story of each song, form a vital part of the heartbeat of each song as the words deliver rhythm as well as meaning.
A very impressive collection indeed and good to see the band continue to move forward with a confidence that has allowed themto revisit past glory as well as push the rock envelope. If you know the band and haven't got this... why not? If you don't know the band and want something that showcases what its about - this is the perfect introduction. Either way get yourself over to STP records http://www.stprecords.co.uk/ and get your hands on a copy today!

The Senton Bombs are
Joey Class – Bass/Vocals
Johnny Gibbons – Guitars
Damien Kage – Guitars
Scott Mason – Drums

So where next boys? I can't wait to find out!
As ever this has been respectfully submitted by
A Man Called Moose
From: Rock In The Blues
By Lucas Campbell (November 2014)

The latest CD release from 'The Senton Bombs'  produced by Ronnie Bomb with album cover artwork by Dean Reilly.  "Phantom High" will also be available via 'Holier Than Thou Records' in 2015.

The doyens of the Blackpool alternative rock scene 'The Senton Bombs' hit the right notes once again with this high velocity collection of top notch tracks on their latest five track compact disc EP release "Phantom High" on STP Records. Hard on the heels of their 'bunker busting' "Chapter Zero" album the band show no signs of slowing down by producing another hard hitting 'in your face' selection of songs on this latest release which is clearly indicative of their punk roots, as well as showcasing slightly more diverse crossover material which veers from hard rock into a hybrid of southern metal at times.

Nothing really displays this crossover style better than the stand out track "Black Chariot" as bassist and lead vocalist Joey Class pitches his voice perfectly into this dark epic which contains the lyric line "Soon I'll be singing from the grave" displaying a depth of conviction and self belief only achieved by musicians who are totally immersed in the pathos of their music. "Black Chariot" strangely enough has feint traces of a spaghetti western fade out with a ghostly Ennio Moriconi style soundtrack whistle at the very end. Running in as a close second to "Black Chariot" is the infectious and commercial "Lights Over Phoenix" which has an instantly memorable sing along chorus line.  Guitarists Johnny Gibbons and Damien Kage make it all cook on number ten with Scott "The Beast" Mason pummeling his drum kit into total submission with fiendish delight.

 All of the songs on this CD bear the hallmark of a band imbued with true musical spirit determined to make their presence felt in a music business that turns ever inward on its self.  Attention music impresarios and promoters, here we have a band that is able to take you beyond a 'phantom high' into the promised land of rock & roll euphoria! 
From: Damar Thesol
By Damar

I am a fan of many genres of music. I think music is good if it is authentic, sounds good, and delivers its intended message to the listener. There is a punk/grunge band that I  had the pleasure of meeting on Twitter, that have allowed me to hear their EP called "Phantom High". I listened to the whole thing and I'm going to review it here. I generally like it. There are three songs out the five that stand out. My favorite is black chariot, because I could detect the blue-like sound in it and it's story is good. What I like about rock music is it's dynamicism and musicianship.

And this is what The Senton Bombs delivered. As someone who makes beats, I wish I could play guitar as well. The ambience of the EP and the voice of the singer is what stands out really well. The quality of the sound of the lead singer of the band stands out. The quality of the guitars, name choice of the songs, the lyrics are also well developed and fitting. My favorite songs of the album in order are  Black Chariot, Lights over Phoenix, and Phantom High.

Ok let's talk about concept of the ep album. The album has some edge and angst. It talks about some conspiracies, aliens, religious concepts, death, but a part of art. Alot of artists don't address things of that nature that may very well be important. Now as a critic, I don't agree with everythings being a lie. I too have looked into the various conspiracies out of curiosity. It's just alot things that might be hidden, or rather not hidden, that people refuse to talk about; Enlightenment.  And I think that is one of the core concepts good unique things about The Phantom High EP by  The Senton Bombs.
From: Rock And Roll Creations

Formed in 2004 as The Terrorists and with an history of line-up changes that is almost emulating that legendary band Spinal Tap (especially where the drummer is concerned) in their early days, The Senton Bombs have had a rich and some may say almost infamous history over the 10 years they have been formed. When they describe themselves as 'punk infected rock and roll', well, you rather expect a bit of bad behaviour.
Having signed to a new record label Holier Than Thou Records, Joey Class (Vocals/Bass), Damien Kage (Guitar/Backing Vocals), Johnny Gibbons (Guitar/Backing Vocals) and Scott Mason (Drums) will be re-issuing their 5 track 'Phantom High' EP on digital format on 2nd March 2015. The lead single from the EP 'Lights Over Phoenix' will be available as a free download from the 23rd March.
Starting off the EP with Phantom High', this is full on in your face as it crashes into the record in almost wild abandon. Full of heavy guitar licks and raw vocals, this fast paced track leaves you almost panting for breath along with it as you listen. 'Lights Over Phoenix' which is based on UFO's, their conspiracies and is named after the 'Phoenix Lights sightings, is a brash, slightly punk-infused track with a touch of alternative thrown into the mix and with an anthemic chorus, this retains the heaviness heard in the opening track. 'Black Chariot' has a slow introduction to it, the beat picks up through the track as moves into a southern-style groove as the vocals soar over the guitars, whilst 'Passions Of The Passive Aggressive' has more of a rock sound to it, as the riffs explode into this track with raw and gravelly vocals. The final song 'Surf 6-66' is another high octane track with a massive chorus to the song and the guitars have a filthy sound to them. With such a delicious mixture of styles over the 5 tracks, The Senton Bombs certainly live up to their description with this excellent EP.
The Senton Bombs have also announced some confirmed live dates:
07/02 – Snooty Fox, Wakefield
14/03 – The Leek, Stoke On Trent
27/03 – Lounge 41, Workington
11/04 – Satan's Hollow, Manchester
22/05 – Breaking Bands Festival
And will also be announcing further dates in London and Cardiff as well as some possible international dates as well.
With a new album also in the pipeline, 2015 is going to be a busy year for The Senton Bombs and it is excellent to see them back with a bang.
From: Whisper and Hollerin
By Christopher Nosnibor

They may be over a decade into their career and have three albums to their credit, but The Senton Bombs show no signs of slowing the pace or going soft on this five tracker. They play hard rock music, the likes of which proliferated in the 80s but isn't nearly as common any more. But they're by not about big hair and tight spandex. They're all about driving guitars and kicking out the riffs. They're all about rocking. And they do, in multiple shades.

'Phantom High' is fast and furious, a powerhouse piece of hard rock with punk energy. There's a touch of the Undertones about the anthemic 'Lights Over Phoenix' and they're deep in US rock territory on 'Black Chariot', landing somewhere between Bon Jovi and ZZ Top. It ain't revolutionary, but there's something refreshing about their no-frills, no-messin' approach.
7/10
From: Powerplay Magazine
By Chris Kee

A new 5-track EP from the irrepressible Senton Bombs and the opening title track is a stone-cold classic that perfectly encapsulates their high energy rock 'n roll - a song made to be played live. Added to that we get the anthemic melodic punk of 'Lights over Phoenix', the brooding slow burn of Black Chariot, the punchy, punky, attitude packed 'Passions of the Passive Aggressive' and the bouncing blast of 'Surf 6-66'. Live is the best way to experience the Senton Bombs, but if they're not playing anywhere near you anytime soon, grab a crate of beer, a copy of 'Phantom High' and crank it up.

7/10
From: Fungalpunknature.co.uk
By Fungalpunk
A long journey, a trek down many tuneful dead ends, a whole heap of seeds dispersed and wasted  until...one day...fruition comes.  The Senton Bombs have been through the dead eyed mire where many watch, take no real heed and move on to more acceptable sounds.  Eventually one or two heads turn, a few follow and suddenly a vibe arises - and about time to.  As the band develop, fine tune their skills and slowly build something resembling a fan base a stage is reached where it all seems worthwhile - we are now at such a juncture, with the rock and roll artistes from the spunk laden blemish known as Blackpool all ready to climax.  They have a fine chap helping them along in a managerial role and this will hopefully KO a few obstacles and get them more 'out there'.  As per, I like to do my thing when requested and here is another CD review (honest and with warts wanked).
Title track, skies crack, a heavenly twinge paves the way for a mouth-watering, melon juice treat arranged with high rock and roll articulation and gushing desire to snatch at the attentive neurones and keep them...hypnotised.  The band immediately adorn themselves in raiment's of sonic war, pick up their reliable weapons and fire off in utterly glorious unison with a distinct invulnerable and secure essence more than a little apparent.  Once more we are treated to the frontman's gifted, natural and oh so credible tonsil work with a superb savoury and sub-sexual lust for the noise coursing through every syllable uttered.  'Phantom High' is desirous, ravenous and unstoppable and my advice to anyone with doubts or anyone with virginal ears for the SB pack to just plunge in and let them consume you.  There are far worst ways to die.  Musically tight, generically embracing and one for those in or out of many, many pits of noise.
From a straight ahead trampling to a more heedful and acoustically observant serving that has a certain crepuscular quintessence within the marrow of the melody and a sincere hefty application of considered ambience. 'Lights Over Phoenix' is sub-operatic rock, a deeply gilded and ornate offering tattooed with the bands new level of confidence and song-writing instincts that are there to salivate over.  Whispering ripples expand outwards from a delicate splash of tonal care with all players holding themselves in check and just applying the right amount of assistance to the overall end result.  Perhaps one of the bands most mature songs to date, a real coming of age exhibition of a crew in a groove and heading straight for a collision course with success!
An alteration in approach next, a scorched and westernised drawl of cool assed standards with the coming of 'Black Chariot' and all its emotive triumph.  Strutting in on superb sanguinity, with spurs digging into the initial senses and drawing attentive blood.   Vocally superb and, surprisingly excellent - musically exact and so perfect for the style sought.  This opposing factor to the usual Bombs produce is most choice and is delivered with aplomb and advanced insight.  More doorways will open on the back of this number alone and as I have always said, if the band avoid getting slogged down in a punk pit and stretch their wings they will undoubtedly find many zeniths.  I find myself loving this song more and more with each rotation and feel for the victim, get more involved and more appreciative of the delicacies included.  The power smashes, the gentle string work, the backing murmurs, the narrative methodology - fuck yeah!
Back to level 'expected' next with the lush and lively 'Passions Of The Passive Aggressive', a song that begins with punctuated positivity and zoned in accuracy before hot-footing into further excitable realms with all components getting dragged into an orgy of fully aroused acoustica.  Wild perspiration runs free, subtle ascensions of erogenous activity manifest themselves, firm muscle thrusts penetrate with irresistible passion and a consuming blanket of sound is thrown over the entire writhing heap of effective rhythm.  A multi-faceted copulation of colliding and complimenting bodies producing moments to drool along with.  'Surf 6-66' closes this thriving 5 track exhibition of tamed excellence with the band flowing like molten gold through cast iron veins and thus firing life into those both internally and externally.  A holistic bout of consummate clarity and professional success that fucks the true membrane of all music lovers for sure and leaves behind a sensation of draining satisfaction.  Perhaps one of the most improved bands I have ever dealt with, certainly one of the most impressive and a crew destined for genuine appreciation from the most ignorant of bastards.  The acuteness of the strings is beautiful, the throb and firm application of bass is fulfilling and the direct, well clattered tympanics are done with superb attention to wham bang detail.  Another fine song, another feather in a crammed and well worn cap - yeah.
That's it, to gush further is not needed.  If I have told you once I have told you a million times and it is a pure insult to ignore this crew any longer.  The Senton Bombs ooze class, the time is now to give them your 100% support.
From: Powerplay Magazine
By Chris Kee

A new 5-track EP from the irrepressible Senton Bombs and the opening title track is a stone-cold classic that perfectly encapsulates their high energy rock 'n roll - a song made to be played live. Added to that we get the anthemic melodic punk of 'Lights over Phoenix', the brooding slow burn of Black Chariot, the punchy, punky, attitude packed 'Passions of the Passive Aggressive' and the bouncing blast of 'Surf 6-66'. Live is the best way to experience the Senton Bombs, but if they're not playing anywhere near you anytime soon, grab a crate of beer, a copy of 'Phantom High' and crank it up.