Outsiders Album Reviews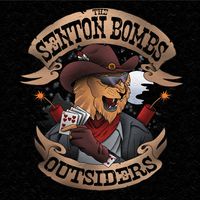 From: Maximum Volume
By: Andy Thorley

"Some of us don't fit in, some of us don't know how…."
So sing Senton Bombs on the opening line of this – their fourth album.
Think about those words for a sec.
There are those of us that just, well, think differently. There are those of us who save a day's holiday to miss the works Christmas do. There are those of us who don't do Facebook, don't watch Love Island, haven't a clue about Ed Sheeran's latest, and what's more we aren't remotely bothered.
The other week I reviewed the new one from The Virginmarys and there is something of that in this from Senton Bombs. If not sonically, then certainly in attitude.
Maybe it's because they are from Blackpool in the North West rather than big cities (and as an aside about not fitting in, I went to Blackpool on a stag do 20 odd years ago – trying to prove to a girl that I was "normal" as it goes – and was so bored by the middle of the afternoon in some dodgy back street strip club I went to watch Blackpool play Gillingham at home in the football on my own, and then drove home so I could watch my team play the next day……) but there is something fearsomely independent about them – together with a small town anger that burns – and what's more a sound you can't pin down.
One minute they're stomping about like The Cult on the title track, and there is a barely concealed rage here. The next they are bursting out with the chugging brilliance that is "Who We Are". The first single from the record and one possessing a chorus that would have made Honeycrack jealous in the 90s.
"Violet Black" has a punkier edge. Those of us that listened to the Senseless Things in the last century will find much to enjoy, plus there's a solo here that recalls, unashamedly, the Sunset Strip.
Indeed, this is one of those records that have so many different ideas that in the wrong hands it would sound like a compilation album. "I Am Ablaze" for example, has some drumming from Scot Mason that wouldn't be out of place on a thrash thing, while Damien Kage and Johnny Gibbons' guitar work is some of the most versatile around.
Why it all works so well, though, is that whatever they do, it is bound by a real quality, and a real sneer from Joey Class. "Reckless Youth" is a British version of Jovi's "Blood On Blood" – but what comes through is the real bond between them all. "Bury The Hatchet", about losing one of those old friends, is almost like Flogging Molly in its intent, while "Remind Me Of The Moon" is predicated on the idea that the power ballad was always cool.
"Dead Revolution" is something like The Sisters Of Mercy at their rockiest, while even their mid-paced ones like "Video" have a chip on their shoulder, a nihilism if you like. "I spend all my money, like I spend all my days. On things that don't matter, wasting away," sings Class here, and "Under Offer" lurks in some real dark shadows and has a metronomic quality.
"Wake The Maker" ends the thing, with something a touch more 80s sounding. Starting with a solo is always fun and as it plays you feel that if ever there was a band that is steeped in the sound and just loves what they do, then it's Senton Bombs.
There are bands making music for all the wrong reasons and you can hear it in their compromise. Senton Bombs have never – I guess – done anything they didn't want to. They might be "Outsiders" but they're so good, mainstream acceptance simply has to follow – this is the sound of a band kicking down the doors.
Rating 9/10

From: Ringmaster Review
By Phil Ring

It is fair to say that any news of something new from UK rockers The Senton Bombs has us licking our lips in anticipation. Four spirit rousing previous albums among just as potent singles and EPs has fuelled that reaction with each encounter building on the exploits of its predecessor and pushing the Blackpool hailing quartet to the mass recognition and attention we with so many feel they deserve. The band's impending fifth and new album, Outsiders, continues that trend sparking excitement in appetite at the prospect of something special whilst taking the band's songwriting and sound to another level of prowess and adventure.
Perpetually varied and flavoursome in its styles and character, the band's rock 'n' roll has eagerly evolved and grown up across their albums. With every offering The Senton Bombs has pushed it and themselves to new areas and adventures but all the time reinforcing the recognisable individuality of their music. With Outsiders, the band has aligned their ever ready punk 'n' roll instincts with southern and classic rock scented endeavour on the hard rock side of their sound; the result, a rousing and raucous collection of multi-flavoured and variously delivered anthems as familiar to the band as they are unique.
The album erupts into life with its title track, Outsiders entering upon punchy rhythms and sonic stabs as the ever enticing vocals of bassist Joey Class open up their declaration. With attitude and defiance at its core in sound and word, the track prowls with a swinging hard rock swagger lit by the flames and enterprise of guitarists Damien Kage and Johnny Gibbons. The throaty throb of Class' bass resonates throughout, adding a darker threat to it all as the bold swings of drummer Scott Mason descend. It is a controlled but dynamic start to the release, an ear and attention grabbing statement of intent swiftly backed and built upon.
The band's new single, Who We Are, does both with relish and tenacity straight away. The devilishly earthy stroll of the bass instantly had imagination and appetite hooked, its inescapable lure aligned to the perpetually lively dynamics of Mason's rhythms. Both continue to arouse and manipulate as guitars and vocals join the song's incendiary holler; a union brewing a delicious slab of punk 'n' roll as virulently catchy as it is rapaciously invasive.
From one major highlight of the release to another as Violet Black follows unleashing its own rock 'n' roll trespass. With each album Class has developed his vocal presence, almost developing a two sided proposition. Here he returns to the grainy delivery which partly trademarked the band's sound from day one and is always a welcome essence to their creative diversity. The track itself is a boisterous slice of punk rock with a blues rock lining and hard rock virility.
If the previous track is headstrong, I Am Ablaze is an insatiable hell-raiser of sound and rowdiness; an anthem epitomising the band's live sound as much as its rebel rousing heart. Raw and feral yet skilfully woven to create a hellacious roar the track is superb; The Senton Bombs at their rabidly infectious best leaving next up Reckless Youth a tall order to match. That it does though by revelling in the calmer side of the band's attack, growing from a melodic shimmer into a contagious stroll led by the inspiring swings of Mason. Reflecting on times past as youths into the seeds of the band stirring things up today, the song is a bold smoulder compared to the fires that are its companions but just as magnetic and riveting
Across the irresistible country blues rock scented saunter and vivacious swing of Bury The Hatchet and the mellow southern surf kissed croon of Remind Me Of The Moon, the album simply blossoms in its variety of sound and imagination while Dead Revolution immediately had body and spirit addicted to its Misfits laced  darkly hued rock 'n' roll. As ever hooks escape the band with instinctive agility, riffs and rhythms offering their own spiky bait to get hung up on as vocals lead the way. Similarly the individual craft of Kage and Gibbons masterfully gets under the skin alongside the equally devious antics of Mason and Class' bass.
Video is a track which would fit as perfectly within the confines of previous encounters such as Chapter Zero and Mass Vendetta; a trademark rather than formula Senton Bombs song easy to devour greedily before Under Offer hits the spot dead centre with its fifties scented modern punk infused rock 'n' roll. Reminding of another band deserving mass attention in Canadian outfit The Black Frame Spectacle, the track is a stomping viral temptation.
Wake The Maker brings the album to a close with its classic/hard rock melody shaped howl and though it did not personally excite as those before it, the song is a richly satisfying conclusion to an album which we can only suggest is the finest offering from The Senton Bombs yet.
Global attention is long overdue for the band we strongly suggest but maybe about to be seriously poked by Outsiders, a release and title which sums up the band's sound and presence within rock 'n' roll and the individuality which will always make them stand out and excite.

From: Powermetal (Germany)
By: Tommy Schmelz
(Google Translation)
Finest rock from the island!
Already with the last album "Mass Vendetta", released in 2016, the blackpool quartet THE SENTON BOMBS ran open doors with their peculiar mixture of classic rock, punk and southern rock elements. I was all the more pleased when I learned that there will be new material in 2018. This is now available in the form of the latest work "Outsiders".
The title track is also the opening number and it grabs you with pounding rhythm and a catchy hookline - what a great start! A little brisk but no less catchy is 'Who We Are'. The piece reminds me a bit of the Australian rock band THE DUBRONIKS, which ran in the early 90s with albums like "Audio Sonic Love Affair" and "Chrome" in continuous rotation. And this should happen now with the new disc of the British. "Outsiders" is full of pieces that just rock cool. It does not matter if it is more in the punk corner, such. with 'I Am Ablaze' or 'Bury The Hatchet', with a cool country flair.
With "Outsiders" THE SENTONBOMBS has succeeded in perfecting their peculiar mix of styles and they present us their most mature and best work so far, but without devaluing the older albums.n Album for the permanent rotation. Scratch the classic status.

9.5/10 - An album for the permanent rotation. Scratch the classic status.
From: Fungalpunknature
By: Dave Higginson-Tranter
The disciples of the musical drain fall foul of their own insularity and as a result defy any form of eclecticism and so duly self-pigeon-hole themselves, become slaves to a suffocating scene and thus miss out on many flavoursome units doing their stuff and doing it mighty well.   The Senton Bombs teetered on the precipice of oblivion as many heads failed to take time, dabble in pastures new or take a chance on a band opening with great quality - not so here.   The band have long been a Fungalised favourite and to see them move from the cloying A to the promising B and in-between take chances here there and everywhere has been one of the minor joys of my musical journey thus far.  The band come from the spunk and shit laden town of Blackpool, they have peregrinated along the highroads of noise with lovable attitudes and are one of those bands that deserve every accolade they get.  Having said that, this review is no formality, my weapon of respect is honesty, sometimes that can cause a problem but it is the only way to operate.  I spin the disc, I compare with that what has been, that I suspect may come, and that which is the very 'now'.  Fuck it all and fuck you if you don't like it, this is my take on the melodic matters proffered.
'Outsiders' is a perfect way to start, a forthright stance stated about where the rockers hearts are at and, if you ask me, one of the best places to eternally be.   The 'inside' is suspicious, sinister, laden with false back slaps and of a quite ambiguous and untrustworthy aspect.  On the 'outside' one can get balance, keep rooted in reality, assess the situation in a far more objective way and...most importantly, be oneself!   The song itself is a regular heartbeat of authority that promises and will undoubtedly deliver.   The musical score remains regimented, highly disciplined and with a production value to salivate over.  The vocal excellence is clean, real and in tune with the rocked up stride.   Immediately the non-conformists are given hope, the battle cry is a blessing and as we enjoy we should take heed.   From this solid start we get the masterclass of 'Who We Are', a bubbling behemoth a slick sonic sensations that flexes muscle, prowsl your aural caverns and duly quakes outward a most natural and gratifying response.  This is a quality cut par excellence, a flag-flying example to wave above the heads of the doubting Oi Polloi whilst loudly proclaiming 'I fuckin' told you so'.   The bass is an under-adhesive of inescapable quality, the guitars twist, turn, create excitement, whilst the skins are impacted upon with great command and joyous exactitude.  The vocals rise above the norm and perspire a reality soaked professionalism that is a credible distance away from that which is processed and pathetic.  A stunning masterclass of progressive noise is what long term followers are blessed with, an instance in sonic time that proves that sticking to ones guns, practicing hard and not being afraid to push one's buttons pays huge dividends.   Perhaps one of the songs of the year!
The deliciously intriguing title of 'Violet Black' walks from a backdrop, hits a lick and hits it running before the first verse cascades over the eavesdropping carcass and literally bowls one over with its fast moving desire, the articulate majesty and the liquid slip into the utterly thrilling  chorus.  It is this fluent approach that has me bouncing, has me dragged into the chord clattering melee completely convinced.   The band hailstorm tones with an arousing passion and slip through the multitudinous gears with highly palatable nonchalance.
A hat-trick has been completed by a strike-force to consider.   The front-line attack as blown to smithereens the nets of resistance, I am between the sticks and am happy to see this happen, fuck it, I know when I am beat!
'I Am Ablaze' clobbers the senses, throws the noggin down and sugar surges through the first verse before wildly abandoning all procedure and allowing a catapult sensation to take hold and a genuine release to take place and lead us into a pre-orgasmic session that duly perspires...blood.   The trick is repeated, we are mown down under a six-string attack where white heat incandescence sears the velvet surface of sensual sound and we are left exhausted.   The band promise so much, the band deliver with a little something extra - yeah they are gonna blow, and blow they fuckin' well do.   'Reckless Youth' is a strait-jacketed behemoth which exudes a tantalising texture of reminiscent grandeur that wins over the head, the heart, the very soul.  Awash with a pathos that gently nettles the listeners senses, cut through with a pride and resolute sanguinity in what has been and what shall be, the players capture the sought after acoustic apple with firm hands and the acoustic juices squeezed forth taste mighty good and intoxicate without fuss.   A subtle curve is created,  the band swish and swirl through varied cacophonic curtains – no problems encountered.
'Bury The Hatchet' is an initial beauty, one of those instant nut-grabbing noise-bursts that gain choice recognition and, as it turns out, fervid applause.  We trespass once more over verdant countrified vistas where cultured and pre-thought ideas are lain down and musically spiced up.   The thinking behind this track is tattooed with a fulfilling forgiveness and flecked over with a subtle honesty that, in my humble opinion, is an ingredient not to underestimate.  The guitars catch sunbeams, the skins palpitate with vigorous vivacity and the vocals are thermally soothing and offer a liquid lucidity of a truly rewarding standard.  Stunner is my verdict, dare you disagree and be labelled a tone-deaf fool – I think it best not to!  'Remind Me Of The Moon' softens the methodology, eases a love-soaked strawberry and lets carmine life-blood drip forth with Pollockonian carelessness whilst, at the same time and most paradoxically, exuding a delicate fine-spun care within the overall grasp.  The sway is rock-operatic in many ways, the oceanic swells capable of heaving hearts, the blend of all components complete enough to move one's world.   I am no soppy git, I like things rammed home in bare arsed terms with more clout but I am also no chump chop with iced veins - I duly tip the titfer in appreciation.
'Dead Revolution' exhibits the fascinating progression shown by this band so far and puts over another glistening example of power laden accuracy that chops away at your epidermal layers and reaches inside to destroy your nucleus of doubt.  The kiss of rebellion has been received, the band call to arms in their own polished style but do it with a conviction that matches anything more hollered and blatant.  Here the bass thrums with immovable prowess, the skins are knocked about as one would expect, the guitars are scurfed, scratched and groomed beneath the command of dictators in charge.  The vocals are urging, smooth and culminate with aplomb - I love it.  'Video' is a song of touching tones set upon a gracile dais of petal-light fragility that turns in a self-created waft of oh so tender oral warmth.  Regrets are suggested, movements of stance are subtle, soft tiptoes make headway, a certain hope-free liberation is achieved, all the while The SB Machine metamorphs into a stealthy sonic creature eyeing up its next victim and ready to pounce.   The muscularity is magnificent without being vulgar, the threat gentle but with great potency, the outcome is of a naturalised machine running at their own pace in their own furrow - it is wonderful to witness!  'Under Offer' is the penultimate piece, it comes on the auburn threads of twilight scenarios where we prepare to settle and contemplate that which has been and that which we hope will come.  Suddenly the solitude is banished and the night is upon us, whereupon a nocturnal energy kick is adopted and the strut is taken.   The colour change is stark, from gentle swirls of pastel procrastination to blatant black and white attacks of 'fuckin' do it' desire, I find myself mesmerised by the alteration of the acoustic intrusion and feel blessed to be aurally witnessing such elegance and erudite creation first hand - need I say more!
We finish with 'Wake The Maker', an execution that takes place without flaw, rocks its cock with unashamed abandon and works its way along the 5 minute 31 second running route with genuine joy and truly gratifying ease.  This one indulges, wallows in its own success and poses the question impossible.  In the great scheme everything is pointless, all the crap and crud that is kicked up counts for nothing so why not conduct oneself with ethics intact and a desire to do something decent - like playing damn good music for example.  As the song drifts on the final waves that lap around the feet hiss with foamed success and rather than textually trespass for the hell of it I will sign off satisfied and hopefully leave you intrigued.
The best SB release to date?  I think so!  The product of a band at the zenith of their powers?   Oh yes - it seems that way!   The Senton Bombs are one fuckin' A-Class outfit?  I fuckin' know so!

From: Rock In The Blues
By: Lucas Campbell
Yet another impressive album release by the kingpins of the Blackpool & Fylde coast rock scene who have made the transition from their early punk leanings into the hard rock and metal arena.
The 'Outsiders' opening title track sets the scene as the band throws down their  gauntlet with a locked and loaded killer guitar riff underscored with the song's battle cry chorus 'Outsiders Ain't Comin In' from the distinctive vocal chords of front man & bassist Joey Class.
The 'Outsiders' opening salvo makes a serious statement of intent by the band that they don't fit in and they inhabit the margins of society, something that will resonate strongly with all rockers and lovers of this music who share these same sentiments. It somehow reminds me of when Jim Morrison mentions about being "Out here in the perimeter".
 There is almost a gladiatorial element that defines this heavy guitar driven rock music as all the combatants endeavour to make the crowd give the biggest roar in appreciation also with the hope of surviving the performance for a return booking at their local rock coliseum. Hopefully no blood was spilt making this album and putting comparisons with ancient Rome aside The 'Outsiders' video and album's Western influenced imagery seems to cast the band into gunslinger terrain confirming my suspicions that there are hidden strains of  'outlaw country' lurking within the soft underbelly of this band.
 "Who We Are" is classic Senton Bombs full tilt 'rock me like my back ain't got no bone' rock & roll, a skull crushing experience guaranteed to wake the dead with strident bass & drum combination that sounds like an express train about to crash through the gates of hell, whilst "Violet Black" which follows continues at break neck speed into the bowels of hades with some fret sizzling lead guitar breaks, and just when you thought it couldn't be any faster or more intense "I Am Ablaze" (and who wouldn't be as this point) simply explodes into a total fireball crescendo which concludes a trio of  supersonic head bangers heaven songs which few of us could survive without high quality neck braces and painkillers currently unavailable over the counter.
"Reckless Youth" is a medium pace rocker followed by the anthemic "Bury The Hatchet" which has a great late 1950's early 1960's guitar sound, a theme that is reflected again the more mellow almost sentimental "Remind Me Of The Moon" which is one of the albums outstanding tracks and showcases a different dimension to Joey Class's vocal talents.
"Dead Revoltion" finds the band at warp factor five with another slice of take no prisoners rock & roll that is the Senton Bombs hallmark. "Video" has a charm all of it's own and appears to recount the nostalgia of video games and is perhaps one of the most radio friendly commercial tracks.
"Under Offer" breaks the mold again as the band moves into new territory with a moody bluesy retro rocker that even Elvis could have once wailed. A nice mention in the song for Ricky Nelson too, old rock & rollers can never die if they get a name check in a Senton Bombs song!
"Wake The Maker" is another smash and grab rock till you drop opus with an infectious riff and chorus and is the album's final rip roaring offering bringing to a final climax another fine album of well crafted songs superbly produced by Ronnie Bomb the bands long-time producer and associate.
The drum work by skin thumper Scott Mason is rock solid and creates the mainframe for the bass and six stringers Damien Kage & Johnny Gibbons to weave their magic strings around. Joey's vocals are as strong as ever and further plaudits are due as he bravely steps away from his usual vocal timbre in several songs and delivers some slightly more mellow tones, which for me personally are some of the albums highlights.
To quote a line from the opening song 'Outsiders' "Freedom for the few who can't conform" is exactly what can be found in the music on this album, which is why it is such compulsive listening!
Lucas Campbell
The Rock of Ages Radio Show
From: Jace Media
By Dave Martin
The Senton Bombs are what I like to call outlaw rockers, they hail from the seaside town of Blackpool and this is their fifth album Outsiders: eleven songs that are a mix of Rock n roll, punk, county rock, and indie, and it really shows the versatility of the band.
Starting off with the toe tapping Celtic sound of the title track Outsiders where lead vocalist Joey Class tells you we might not fit in but we don't really want to with the intro "Some of us might fit in, some of us don't know how", that's the attitude I love from this band, love us or hate us we're not going away.
Into Who We Are, a real rock n roll sound to this one with the deep bass of Joey, great guitar work from both Johnny Gibbons and Damian Kage and the beast on the drums that is Scott Mason.
Violet Black takes you back to the Ramones and the sounds of American punk rock.
On I Am Ablaze drum Meister Mason certainly is on this, his feet are on fire speed pedalling for all he's worth, a great thrash track and once again awesome work from all involved.
Reckless youth a slower punk number is it me? or has it got an Undertones vibe to it? Nothing wrong with that by the way.
Bury the Hatchet, the songs these guys do best, Irish punk, England's answer to the great Drop Kick Murphy's, a real anthemic Hooley song that would get anyone dancing and jumping around.
Remind Me of The Moon, a nice slow power ballad that shows the diversity of the Sentons, with great instrumentals and vocals throughout.
My favourite track on the album is Dead Revolution. Fast and frantic guitars, and the beast beating the skins to death, powerful vocals, great guitar solos, hooks, riffs, it's got it all, what more could you want.
Video a slow riff driven tune with tongue in cheek lyrics; Joey sounding cheesed off with the world: great punk ballad.
Under Offer, a dark tune that reminds me of Sisters of Mercy, and The Mission, with a nice rock n roll riff and again the talents of this band shine with another musical gem.
Ending the album with Wake the Maker and a real eighties rock feel with a terrific guitar solo to kick it off, then the boys just do what they do best have fun and play good old Rock n Roll.
Outsiders is different to the other albums the boys have previously released I think, it has much more individuality on it, all their influences are there to be heard on every track, this is a well-produced album and a big step forward for the band.
They might be outsiders but I can guarantee after hearing this album the songs will stay inside your head for a long time.
From: Down The Front Media
By Gareth Endean
There is a current trend for bands who wear the influences proudly on their sleeves. Whether this is because they are merely copying the greats or re-inventing them is the subject of much conjecture (see: The Great Greta Van Fleet Debate for more details).
On first listen, you wouldn't place THE SENTON BOMBS into this retro-rock craze - half the time they barely sound like themselves let alone anyone else but somehow through their varied approach and blend of styles they contrive to sound incredibly familiar. Without necessarily sounding like any single specific band you feel like you've known their music all your life.
Some of the influences are more obvious than others - nicking lines wholesale from The Clash on opening song does somewhat telegraph that one but there's also a healthy dose of The Damned in there, most notably on 'Bury the Hatchet'. The early UK punk scene is only the leaping off point though, there are snippets and phrasings throughout that launch the memories of a thousand bands and genres, a little Cheap Trick, some 80s New Wave, a splattering of 90s Brit Rock - touches of The Almighty and Therapy? largely - and is that a hint of Volbeat I'm hearing on the sublime 'Under Offer'? 
Everything is thrown into the melting pot and somehow, out come a band that sounds like everyone and no one at the same time. It's simultaneously utterly original and like hearing all your favourite bands at once. In fact, I wonder if the influences I've listed are more of a reflection of my own record collection and that everyone else would hear something different entirely. It feels like that could well be the case and that's quite a thrilling experience really. 
THE SENTON BOMBS sound like a band that if they caught you at the right moment in your life could easily become an obsession. The album is full to the brim of earworms that nestle into your brain, make little earworm families and live happily ever after. They have the sort of sound that makes you want to plunge into a crowd and pogo like an idiot, and yet this isn't all full throttle and one-paced, there's nuance and restraint too. 
In fact, the only gripe is that it sometimes feels like it's a little too restrained, that you're not quite getting the full Senton Bomb experience. It feels a little neat and polished and somehow slightly muted. Sometimes you want the songs to grab you by the throat and they don't quite manage it. You want them to sound dangerous and dirty and they too often end up being nice and clean. It may be a production issue or just a band that are still learning how to get the best out of themselves in the studio but it means the album falls short of being a modern classic and instead becomes just very good. Like The Struts, whose first album was brimming with potential that exploded gloriously on their second attempt, you get the feeling that if the band can unleash themselves fully next time around they could produce something very special indeed. 
What we're left with is still far better than the majority of releases out there and more than worthy of your attention it's just that you can't help feeling that they're still on the journey to next big thingsville rather than having already arrived. However, if they do reach their potential then it won't be long before these outsiders are welcomed in by a whole lot of people.

From: Planet Mosh
By Dennis Jarman
When your live show is like four of the Inbetweeners necking a ruck of Monster drinks before going onstage to let all hell break loose, it must be a daunting task for The Senton Bombs to capture that vibe in the studio but with forthcoming studio album release Outsiders on Regolith Records, they are not far from it!
The title track and current single stomps along like water torture on the forehead (but in a good way of course). Grinding riffs make for a gripping start and they even throw a few cheesy "Nah nah nahs" in for good measure. Prominent bass guitar lines in 'Who We Are' give it a Stranglers feel with adrenaline rushes of riffs backing Joey Class' croon. The four minute rager 'Violet Black' screams "Punks not dead" from the rooftops, or from the Bombs case, Blackpool Tower!
'I Am Ablaze' sees the Bombs go headlong into hardcore territory as they bash the shit out of their instruments, especially lead guitarist Johnny Gibbons who shreds his fretboard to pieces. My album highlight 'Reckless Youth' captures Joeys teenage years with some personal lyrics, examples of which are " The sun goes down, the stars are in the sky, a quarter in our pockets make sure we got high" and "Back in Damien's garage, jamming in the trash, a few months later we were opening at the Tache".
Yeehaw! It's time for the Bombs to put the c**t in country and western as they saddle up their melodies to breeze along through the verses featuring snappy snare work from Scott Mason with Joey coming all over like Waylon Jennings throughout 'Bury The Hatchet'. They put the power into the power balladry of 'Remind Me Of The Moon' that contains some very poignant lyrics. Riffs slam with Therapy like angst in 'Dead Revolution' around a powerful lead vocal. 'Video' is sugar sweet power pop akin to listening to it with a mouthful of wine gums.
Joey provides a Roger Chapman like vocal twang for 'Under Offer' backed by foot tapping musical rhythms which leads us to final number 'Wake The Maker' that eases along on a wave of indie guitar lines over catchy grooves and an almost whispered vocal.

From: Dancing Around Architecture
By: T. Bebedor
Blackpool is famous for it's Tower Ballroom, it's illuminations and seaside rock, and boy do these lads from Blackpool know how to rock!
If you like your music to have prominent drums, distortion-heavy guitar, chugging bass and a singer giving it some welly, then read on, The Senton Bombs tick all those boxes. Add to that some very good songs and you've got a very brief idea of what expect from this band.
The influences jump from the music like a who's who of heavy rock, AC/DC, Aerosmith, Guns n Roses, Green Day, Foo Fighters and there is even space for a well written rock ballad (the type I haven't heard since the final days of the big-hair rock scene of the early nineties).
I'm a sucker for a good opening track but we're given a slight delay in what to expect, easing us in gently to the energy that is contained within the eleven tracks, track two, 'Who We Are', enters the scene with drums and attitude and we're away.
Guitar solos, catchy melodies and choruses and it's immediate that this is a band so steeped in their music that to play anything else would be a waste of their collective skills, this is leather and denim music to drink your Jack Daniels to!
'Reckless Youth' is a song for punk rockers and moon stompers while songs like 'I Am Ablaze' and 'Dead Revolution' keep your heart pounding to its raw energy.
Final track 'Wake the Maker' is a fantastic closing song, by now you're aware that this band can write and perform but, for those still a little unsure, this is the final proof, this is a good band with good songs and that's a powerful combination.
Lock up your daughters,  ladies and gents, because judging by this, there is a new band in town!

From: Photogroupie
Blackpool punk rockers The Senton Bombs follow on from their acclaimed 2016 album, Mass Vendetta, with another record that seethes attitude and infectious melodies. Originally breaking onto the scene in 2004 as The Terrorists, the band quickly gathered plenty of positive press and a solid fan base. A name change and several line up changes later and the bombs have started to get the wider recognition they deserve. Outsiders feels as though the band are making a play for the big time. Their sound is certainly lighter and more commercial, but the rebel heart still remains.
The title track boasts a sing-a-long chorus that the band delivers with aplomb. Who We Are continues the celebration of all things alternative with a Ramones kick and a Green Day ear for a melody. Violet Black and Wake the Maker are examples of their heavier overtones with a nod to sneering 80s metal that you'll find throughout. The vintage, less angst ridden vibe also makes a returns in the fabulously rockabilly Bury the Hatchet.
Joey Class's vocal is also more versatile on this record, able to be both melodious and commanding. Damien Kage and Johnny Gibbons duel guitar work helps to propel the album's broader sound while Scott Mason's powerhouse drum work is the backbone of the album.
Outsiders may not be as edgy as their previous work, but the band have proved their abilities to pen a catchy tune and create some fiery licks that pack a punch. They may see themselves as outsiders, but with a track record of releasing quality material the Bombs have certainly made some great progress towards rock's inner circle with this album.
Groupie Rating 4/5


From: Other Side Reviews
By Faye Davison
The Senton Bombs are a British rock band formed in 2004 in Blackpool, UK.  They also deliver a mix of hard/classic and southern rock.  They are releasing their album Outsiders on November 5th via Regolith Records.
The album kicks off with the track 'Outsiders' which starts with a drum beat and guitar riff that captures you straight away.  It's about not fitting in and not being what society thinks you should be, but it sounds like he's happy to be that way; he doesn't want to be 'in' and follow the crowd.  'Who We Are' starts with an awesome drum intro and brilliant bass guitar riffs.  The song is about wanting to tell people exactly who they are.  It's very catchy, and the vocals are great.  It's a great rock song.
'Violet Black' has an awesome guitar riff at the start and heavy bass line which sounds great.  It's about a woman who sounds like she's out of control and is wild.  It has a great beat and is very catchy; at 2:35 it has a great guitar solo.  'I am Ablaze' is quite heavy; it has a very catchy sound and a very punk feel to it.  It's about being confused and not knowing what to do.  At 1:33 it has a scorching guitar solo that sounds awesome!
'Bury The Hatchet' begins with a great guitar riff and a great bass line along with it.  It's about wanting to make up with someone who they have fallen out with, and they want to make up before it's too late.  It's a very heartfelt song; he says he is upset that they no longer have a friendship.  It has a great southern rock sound – very country sounding.
Advertisement:
'Remind Me Of The Moon' starts with gentle guitar riffs and the vocals are great.  It's a love song.  He's singing about how much he loves the person and wants them to know.  At 3:02 is a great guitar solo, after the guitar solo the tone changes and he sings about how much the person hurt him; how he wishes he never met them.
'Dead Revolution' starts with a fast drum beat and guitar riff, the second guitar kicks in and it gets quite heavy.  The vocals are great, and it has a very heavy bass line which is quite addictive.  It has a very catchy chorus and an awesome guitar solo.  'Video' starts with a great bass line and guitar riff, as well as a very catchy beat with amazing vocals.  The chorus is excellent, and the guitar solo at 2:58 is amazing.
'Under Offer' has a great bass line at the beginning.  The vocals are great, and it has a very heavy chorus, but it also has some slower parts of the song that are quite soothing.  'Wake The Maker' begins with epic guitar riffs; the drum beat kicks in, and it's very heavy.  It has that classic hard rock sound.  The vocals are amazing, and it's very addictive – a great song to end the album.  I think this is the song you will find yourself listening to on repeat!
Overall, this album is definitely an amazing hard rock album and is worth buying.  It has everything from classic rock to hard rock, almost metal, and is extremely catchy.  The album is available on November 5th, 2018, and is available to pre-order now via the band's website.