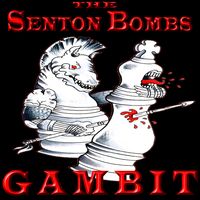 From: TBFM Magazine
By Stevi Rox

The Senton Bombs from Blackpool have been around since 2003, and surprisingly I have only caught them live on the one occasion which was enough for me to realise I was going to like them a lot! The album kicks in raw and furiously like the bastard son of Backyard Babies and Social Distortion with the first two songs.
'Hooked' (which has a video) then slows it down briefly, a strutting little number, with a catchy riff, Oh yeah Oh right… groovy… Then we're off again with the chant along 'Do Your Job' and a killer little solo and gloriously catchy riffs. 'Highflyer' even has harmonic backing vocals! 'Retired' speeds us up again, always just enough to keep the foot tapping and the vocals and lyrics understandable. The sleaziness continues in 'Sick Speed' teasing us along to a grand finale of orgasmically air-guitarist proportions!

'Nine Of Hearts' will have you counting along baybee… 'Yellow Rebels' flows along nicely into a rock N roll guitar solo, drums and bass then tick along into a 'yeah yeah why why' crashing finish, splendid! But wait they finish with a 70s type rocker 'Jackals' leaving me thinking I was in a rock club I frequented as a teenager!

Some of the music reminds me of the heavier sleazy US bands of the 80s like Sea Hags, which can only be a good thing. With my love of Scandinavian rock bands such as the Hellacopters and Backyard Babies, how the hell did I miss this English rock/punk band right on my doorstep! Gambit is officially their 2nd full length album, as well as numerous EP's.
☆☆☆☆☆

From: Studs & Punks
By Woodstock Punkrock (August 2012)

At last another Bombs CD, after years of waiting haha, the last one Sweet chin music about 3 years ago I loved, I had a few minor issues with the guitar sound mainly but that was then what will be discovered this time

Okay packaging is Decent a chess theme I see and lyrics included although I am glad I have my reading specs as the writing is sooooo tiny haha right CD in here we go

Experiment

Good paced first song rattles out of the Box and heads for the chequered board good mix powerful drums and bass work with twin guitars filling the wall of Rock before us, Joeys smouldering, honey tinged rasp is as infectious as I remember, nice little breakdown middle 8 slowly builds back to full power and Yes good start with a definite improvement on the sound from last time, more power, more grrrrrrrtar

Just Visiting

Ok this is it as that beautiful guitar riff rapes the air and steals your breath we head into a real rocker of a tune here, the drums pound, the bass rattles, the guitars shred with the vocals growling along ably assist by the gravel grunge backing vocals that add another little edge, well there is no complaint from me about the guitar being weak this time wow as the neat little solo splits skin and draws blood, this is the Senton Bombs at there rocking best a very Good addition here and a song I am salivating about hearing live, I am gonna say song of the CD too just!!! haha

Hooked

This was the first song I heard from this new disc and it got me hooked early, its slower stomping pace is welcome and has been used to best advantage, the intro is very reminiscent of a certain band with a 60 year old school boy in but that's fine as just when you think you know exactly where this song is going it shifts and the line fly's in a different direction Bombs style, love the moody backing vocal sections, gives this slow rocker a darker moody tinge

Do Your Job

Back up to full pace here with another stop start rocker my complaint with this one is the chorus seems weak to me the guitars are quite sparse and after the powering stop start of the verse it seems to lose something when it hits the chorus which is highlighted even more when you hit the solo which is so juicy it hurts mean and lean and not too long magic so gonna have to put this little rocker in the average camp again maybe live it kicks it I will have to see

HighFlyer

Ok so pace slows again slightly here and we enter a  chugging verse and you know I love a little chugging again you get the idea you know where its going then you hit the chorus with its multi-layered backing vocals absolutely fucking top draw real nice touch guys, the boys have grown up haha this is a gem and Joey even lets lose with the vocals and adds another layer of emotion, has me flying high right up into the sky.

Retired

Ok pace is back up with a rocker slamming along here bombs style with a simple catchy chorus with again some great gravel laden backing grunts and another nice little short sharp solo that refuses to leave and slowly fades into the ether, this may not be a mind blowing track but it's a welcome addition and a Knight not a pawn

Sick Speed

Guitar enters slow thunder strikes as the rest of the bombs crash in and we enter a slow,  pounding, grinding almost whispered, anger laden verse, pulsing and pounding the floor, building to the crescendo of the chorus and a powerful catchy chorus it is too which beautifully drops back into the verse moody and dark definitely from the dark side of the board, the third verse gets stripped back, right back and works perfectly, Joeys angry spew and the single guitar with him out alone until the band gather behind him and after another little face melting solo we finish this song, the bombs are really rocking the shit out of this Record let me tell you, we are heading for checkmate I reckon

Gambit

Well title track so needs to be a good one really and this is a good one but its different, the pieces are all moving across the board in formation but not in the way you would expect, the tune is rattling along at a good pace with some as always great team work, Drums and bass as hard Steel and guitars twisting in and out of each other but in this one Joey has softened the vocals and given this a whole new twist, and I like it, not gonna gain itself track of the CD but its definitely the move you didn't see coming haha

Nine of Hearts

Rock and roll Senton bombs style here, it bops along around a great rocking guitar riff we have stop starts, a catchy chorus with a great shout along counting session so educational too, teach us teacher this is Old school rock from the bombs and gets ya moving

Yellow Rebels

More rock and roll here with a verse that twists back and forth between vocal melody and guitar riff until it hits the chorus a catchy affair that has you singing along as the song breaks into just the drums. I am reminded of what a fantastic drummer Scott Mason is, its like ballet with sticks and I gotta say he is one of only 4 drummers I have ever seen that make me wanna be a drummer, a genius and steady as a fucking rock too and that is made even more impressive when you see the stick ballet he performs, but not taking anything away from the rest of the band they are all top quality musicians and this Cd shows they are a fluid tight unit, they work well together and each has a gift they bring to the Unit, I am so desperate to see the guys live again now mmmmmmmmm right back to the CD

Jackals

Ok last Move on the record, the inevitable checkmate and end game play, and it's a slow burn this one, first time I heard it I loved the eerie death bell start but by the end my enthusiasm had started to drift it seemed a little average, but that was then after a few more plays I felt the power of the Jackals and as the teeth cut into my skin I realised this is a Great end song powerful, confident with twists and turns and the WHO ARE THERE tortured soul voiced sections are dark and unearthly leading to a stripped down metal edged musical section almost in the vein of a rock opera section, really grows on you and again shows that these mad fuckers have a real ear and talent for creation.

So that's it the match is over and the King has fallen to the Supreme Power of the Senton Bombs, when I first heard this CD I thought the sound was better than the last but I thought the songs on the previous one had the edge but now I think differently this is a New Senton Bombs a comfortable with each other unit powering forward this is a rock and Roll Record of the highest Quality and shows the band that have always been good are now Great, and I am excited to hear this new Bombs playing some of the old classics along side these New gods they are gonna end your comfy world and drag you into the Hazy heady world of Rock and Roll Senton Bombs Style, well done guys was worth the wait, you as I am sure you already are, can be very proud of this, the New bench mark in your Rock n roll world I will carry on enjoying this but with one eye on what will come next, if you love to Rock and Roll then get yourselves Gambit..

These are the Ranted Opinions Of Woodstock Punkrock Just an ordinary punk.
☆☆☆☆☆
From: Planetmosh.com
By Matt Seddon (July 2012)

The Senton Bombs latest album Gambit shows a lot more maturity and contains a wider variety of more interesting and musically technical songs compared to their 2010 album entitled Sweet Chin Music. With ten killer punk rock anthems and only one mediocre song on the album; this has to be The Senton Bombs finest work to date, and is worthy of being heralded as one of the finest straight up punk rock albums of the past ten years. Larger than life riffs, slick, sleazy vocal lines and powerful chant along choruses are what make Gambit the amazing album that it is, and hopefully due to such a masterpiece The Senton Bombs will finally get the recognition they deserve as one of the best up and coming rock bands in the UK!

There is so much attitude and anarchy present in The Senton Bombs music and you just have to listen to tracks such as the fast paced, adrenaline fuelled pump of 'Do Your Job', the catchy 'Highflyer' and the early Motorhead sounding title track 'Gambit' to realise that The Senton Bombs are a band who aren't doing this for the money. They are doing it for the love of the music and because they enjoy it and it's great that the band are channelling all their energy, power and liveliness into the songs on this album, so that we can enjoy listening to it; just as much as they enjoy playing it.

Gambit is such a god damn catchy album and if you are not singing along to every track on it after the first listen then there is clearly something wrong with you. Both choruses are verses are easily accessible to those listening to them, and tracks like 'Experiment', 'Hooked' and 'Sick Speed' are all songs that make you want to bang your head, grab a beer and sing like a mad man. After all, that is what punk is all about is it not and it is crystal clear from every track on this album that The Senton Bombs have mastered it perfectly.

The only track on the album that lets it down is 'Retired' and although there is nothing wrong with it musically, it just doesn't stand out compared to the other tracks on Gambit and can be seen as "filler". If the band where to have missed out this track or written another track similar to the likes of 'Nine of Hearts' or Just Visiting' then Gambit would have been a flawless album, but it's the lack of ideas and interest on this one song that puts a dampener on the rest of the album.

With brilliant artwork, (that looks like Alien vs. Predator in chess form) and a selection of diverse and balls out rock songs. Gambit is an album that you need in your collection, and hopefully it is a magic carpet release that will transport The Senton Bombs into the big league!

9/10
From: Fungalpunknature
By Fungalpunk (July 2012)

The Senton Bombs are not a punk band! The Senton Bombs are not a heavy metal band! The Senton Bombs are not a ska band! The Senton Bombs...just are! Labels sometimes are a drawback and can push bands, unwittingly, into areas and gigging opportunities that really does more damage than good due to the onlooker's heads being addled and unable to differentiate between outpourings and attitudes. I have given the band in question here a few gigs over the years (my true pleasure) on what I pushed as primarily 'punk' gigs (which indeed they were) but at this stage in proceedings I recommend that the band move out of the punk circle and seek out gigs where new fans can be picked out and their sound doesn't get overlooked. Saying that they still have a couple of gigs for me and on the evidence here it looks like I may be a very lucky chap. Here is a review of their latest album and some explanation as to my thoughts on this band. Good noise, good chaps - good review - maybe!

We commence and into the first episode of sonic sexualised sophistication that hip-thrusts a rock and roll fuck you (literally) and impregnates your mental womb with a genuinely naturalised throbber. 'Experiment' is screwing a deep groove with a sub-ostentatiousness making this a glamorous grind that taps into some cute sonic script work and pulls out all the stops to make a mighty impressive delivery. The inclusion of segments that are less saturated and create stark, punctuated dividers is the sign of a chancer - the result pays off but its a close call dudes. From this one song alone one surely can recognise why I opted to open this textual account with such bold statements - this band has all the armoury to thrive in diverse pools and as if to bolster my opinion we have 10 more power riddled jaunts to sway your thinking. 'Just Visiting' doesn't mess about and after the virginal roughing up the band have their pants back around the ankles and are banging away like good un's yet again. Front gobber Joey salivates as his lyrics wind on down whilst all string assistance is tight, muscular, of metallic intrigue and prone to explosions of flamboyance. Drums need no mention - always a believable battering of organisation, outstanding timing and (especially in the flesh) controlled angst. Two songs, two thriving cuts of living acoustic flesh you need to taste - bite deep now.

The sex and swagger continue to melt into one another's rhythmic loins with the passion, warmth and deliberate arousal of measured tones all working a treat and undoubtedly getting us all 'Hooked' to the offered orgasm of sound. This arrangement is a top class hooker indeed with crafted and experienced talons knowing every erogenous zone and how to play em' good. Sleek, with push and pause tease sincerity - let the manhood bleed. If the high achieved thus far isn't enough then prepare to be bowled clean off your feet by a song that I personally consider to be one of The Bombs best efforts to date! That honour goes to the thrashing epic known as 'Do Your Job'. A stop and start behemoth that tears up the flow thus set, moves on into echelons of relished rhythm and over-flowing rock Nirvana and lets you have it right between the eyes. All players are in exact cohesion, the gob is salivating again with the 'job' at hand and is perfectly encouraged by the unified shouts of the title. Superb succulent sonica - this one is dripping with juice! The electrified break is shockingly effective - the whole meltdown just grows by the minute!

'Highflyer' goes back to a more persuasive march with a regulated grind displaying the characteristics of each noise creator and allowing them to be interrogated individually. You would be darn lucky to find any fault within the weave of this side-winding stranglehold and as the rotations increase the grip gets tighter. A full on production, more skilled attention, a mouth-watering style to the whole shebang and this sonic serpent fills you with intoxicating venom that has ye convulsing in appreciation of a band at new heady heights and unwilling to come back down to earth. Flashing on and 'Retired' is still soaring stuff and after a prodding and poking opening sequence the groove we seek is located with the band cruising along from verse to chorus with belief and stunning professionalism (in its purist form). The mix and methodology reek of a process where the band have poured in their entire hearts and souls and the dividends have been paid by the precision of each note and utterance. Guitars break through the cacophonic curtain and make rude but necessary cameos whilst the unrelenting delivery of the more blatant presence hits us with tidal wave power. There are good energy levels to this song and when pushing harder we are taken to yet more convincing realms. How the fuck are this band getting overlooked?

'Sick Speed' turns it over with a nice electrified sequence of intensity before a crawling approach is adopted. The usual teasing tones are added, the sub-sleaziness an added bonus, the marksmanship of the players admirable, the general tension created cute and the hunky man's man inflection when the beef-caked yells are entered make for an intriguing song. 'Gambit' hot heels in pursuit with a raw open wound of noise that is much welcome - you can't be slick all the time! This one is perhaps the most difficult song to adapt to despite having the usual trimmings and funky frills. The flow is regular but there is a slight loss of 'ooomph' and the band seem to be juggling several ideas about and never really settling on a winning end formula. The weakest track of the bunch and only at the extreme latter end do the band find the target. 'Nine Of Hearts' begins with the grooviest vibe interspersing the flash Harry guitar twist with a grumble of bass and a twattering of sticks. A roll and into superb Sentonian Bomb World where the band rule the roost via their magnificent musicianship. An unflappable nonchalance glides through the seedy systematics of the song and with the usual slick finish, various rhythmic hyphenations and exhibitionist necessities we have another golden nugget on our hungry hands. Take time to dissect the individual players and examine the 4 wobbling wires, the 6 strings of steel (12 in fact), the beating of the barrels and the oral satisfaction proffered - utterly lush dude!

2 left folks (wow where has this one gone) and into 'Yellow Rebels' we go with a tribal beat and some heavy, heavy bass. There corrosive guitars follow and as expected so do the stated segments of the first verse. Spatiality increases via the chorus and the whole song comes together as yet another prime identifiable cut from a band on the charge. After a moment of tense deliberation we wind upward to the finale in glorious fashion with encouraging unified shouts of 'Hey' - masterclass baby! The finale and the horror opening of 'Jackals'. Jowls salivate, the bastards that will take all are there, the Senton Bomb machine is functioning at a rate beyond compare - really in the zone. An acute drilling sensation is the main effect that strikes ones attention to the fore as well as the usual thirst to play one helluva mean tune. The melody gets mushed and mashed via a basic one strum intercut that builds to a cloying instrumental - a raping rhythm, a pause, the life is re-injected, the band throb to the closure - collision course is...achieved.

A great album this and one, as a fan, I have expected, wanted and in truth fuckin' demanded. The band have always had it in them and here is 100% proof of a fine band that has been left too long out in the cold. The band should go forth now and branch out and, given minds and ears are open, then this lot will win a mighty league of fans from numerous sub-circles - then again the music scene is a foul enclosure full of disregarding fools happy to swim safely rather than risk a fling in unknown depths - here's hoping for justice.
By Deadbeat Dave (March 2013)

 "First things first, ditch the hearse, I wanna ride in a tank and blow up the church", begins the second full-length by Blackpool's firebrand punk n' rollers The Senton Bombs. It's a hell of a start to a record full of ideas, intent and barely-coded socio-political commentary, while all the while masquerading as a concept album about board games (specifically chess, poker and monopoly). Confused? Sit back, pour yourself a drink, turn up the volume and press play. The pieces will fit together in time and it'll all begin to make sense….

A bit of history: The Senton Bombs got together around 2004 and have been gigging their arses off ever since, slaying audiences all over the UK and supporting the likes of Vice Squad, Real McKenzies, The Blockheads and Random Hand, as well as having the stones to do what most 'unsigned' bands don't dare, that is; getting in a van and driving miles across the country to play to people who know nowt about 'em, self-financing and releasing their own EPs (including one stone-cold classic, 2006's Death Valley Driver) and generally working like rabid dogs to bring their individual brand of punk rock to the masses. Having been through a number of member changes, the band's line-up solidified around 2009 with main songwriter and bassist Joey Class up front, Mason on the drums and the twin guitar assault of Johnny Gibbons and Damien Kage.

First album Sweet Chin Music featured some of their strongest material to date on its release in '09, but with Johnny joining halfway through and the majority of the album being recorded as a three-piece, it lacked focus and suffered from being a little over-long and a little over-produced. A sprawling epic of an album, SCM was somewhat of a departure from the earlier EPs but showcased the massive potential this band has on a more grandiose scale. Whereas the first Senton long-player showed a band in transition, the second is quite clearly the work of a confident, assured outfit brimming with ideas and having a fuck-load of fun with it, returning to the feel (and artwork style) of their earlier EPs, yet pushing the music forward in a number of different directions, all of which they pull off commendable brevity and style.

The Bombs get pigeonholed as a punk band but, really, there's much to love here for anyone into rock and roll in all its glorious forms. Opener 'Experiment' is, musically at least, classic Senton Bombs-style driving punk n roll, and features some thunderously powerful drumming from Mason (who's incendiary talents are all over this album), and Joey's refined rabble-rousing snarl-drawl. Lyrically, it deals with religion, individuality and the mutant, lobotomised 2013 work-to-live masses with worthy disdain. It's a strong opener and a great introduction to what the Bombs do for newcomers.

Second track the Monopoly-themed(!) 'Just Visiting' kicks off the vague concept running through the album; the similarities between the games people play at tables and the ones we play in real life. The production really shines here, and this song really captures the Sentons live sound better than ever before. It's a rowdy, riff-heavy bugger this one, firing down the line at pace and throwing in dive-bombing pinch-harmonics, gang chants, and a blazing Gibbons solo 2 and a bit minutes in that still takes you by surprise on the tenth listen.

Track number 3 'Hooked' is a different proposition altogether. A great slow-build of an intro leads you in to probably the most commercial song The Senton Bombs have recorded; a slower, groove-based filthy come-on of a track that recalls The D4 and Queens Of The Stone Age at their sleaziest and Kiss, DC and the Stones at their ball-slappin', rockin' best. As a long-time follower of the Bombs, it was a bit of a shock when I first heard this (it was the first song I heard from Gambit, check out the video here http://www.youtube.com/watch?v=uhfIto37bek), but in the context of the album it makes perfect sense. Strangely, I imagine it wouldn't sound out of place on 'wonderful' Radio One's current playlist…. Honourable mention for Sally Class and Vicky Spencer for some great backing vox on the chorus.

The next track 'Do Your Job' has already attracted international attention, and is just fucking killer! The great promo video (here http://www.youtube.com/watch?v=ZgaJFm5imK4) sums up perfectly what the song's about, and anyone stuck in a shit job or struggling in a band in the current climate (or both) will be able to relate to this one. Again, the 'band shouts' on that seriously infectious chorus really work well, as they do throughout the album, and Joey's vitriolic delivery has rarely sounded so corrosive. A standout.

'Highflyer' drops the pace a little again and is one of my favourite tracks on the album. The production on this one, as with the rest of Gambit, is stunning without being OTT and the guitar sound on the rather tasty solo is pretty fucking lush. God knows what this one's about, but it's all a bit mythical with references to Ravens and Icarus. This song and many others on the album see the Bombs showing a keen ear for dynamics and melody, and the album as a whole builds in a way that hangs together perfectly.

'Retired' deals scathingly with ageing musicians making comebacks and has some serious moshpit chops about it and throws you about a bit with its choppy riffs, moist-sounding guitars and frantic pace. 'Sick Speed' follows, with a dark sounding, chant-a-long rocker that ploughs along nicely enough but is in my opinion the closest Gambit comes to filler. Still, I can imagine it being a live favourite with many.

On to the title track and back to the games theme, chess this time, and a pounding slab of punk rock with some smart lyrics. Melody and feel-wise this one leans towards the Bombs of old, and I can see me coming back to this song over and over. Ends with the lyric, 'I got a thirst for the blood of the king, and revolution is a beautiful thing'. I just wanted to mention that as I think it's a fucking good lyric. That's all!

Nine Of Hearts piles on the sleaze with an Appetite-era G'n'R RAWK feel and is all the better for it. And those 'band shout' gang chorus vocals are back, and are daring you to join in… pointless resisting really!

The penultimate track, Yellow Rebels, is a caustic attack on the all the part-time punks, fakers, student wankers who 'get into politics' opinionated bullshitters who we've all met and has a Clash meets Rancid feel to it. It's a swaggering, sarky slice of prime punk polemic that leads nicely into Jackals, an apocalyptic end to the album that, both musically and lyrically holds a blurry mirror up to a modern world of shadowy figures and brain-dead subservients, filled with paranoia, disillusion, mystery and chaos. No wonder their next album is called 'Chapter Zero'.

As I mentioned earlier, there's plenty to get stuck into on 'Gambit' for rock fans of all persuasions. This album really feels like the Senton Bombs smashing down the walls and taking their shit to the next level. Fuck the punk rock and metalhead genre Nazis, if you're into loud guitars and rock n roll you need this album in your life. It's refreshing to know that, even when they don't sound like themselves, The Senton Bombs still sound like no-one else, but you get the feeling their best is yet to come. Bring on the next chapter.

9/10
 
From: A Man Called Moose
by Moose Mann (November 2012)

It has to be said the Bombs were true to their word when the said their next recorded offering wouldn't take as long to appear as this albums big brother "Sweet Chin Music" – which was well worth the wait.

So will GAMBIT be as good? Will it be more of the same or will this show a band that has changed and progressed? Let's see shall we?

I loaded the CD with great relish. The anticipation of what was going to hit my ears bordered on Autonomic Meridian Sensory Response – A split second of silence then all hell let loose in the form of the opening track.

01 – EXPERIMENT

A simple, sweet but dirt riff is joined by Mr Mason's delightful double kick bass drum, which plants a size 12 boot up the arse of this little number and keeps it moving forward with purpose and aplomb! The guitars weave and wail nicely giving direction and the bass lines act as the lynch pin that holds it all together. The vocals are classic Class! The urgency with which this song starts remains to the very last cymbal crash. A sound way to kick things off.

02 – JUST VISITING

Whilst built on the same foundations as the opener this unfurls its wings a little more in the guitar department and the vocals have more snap and snarl. The percussive, punched, delivery adds a power which gives the whole 'depth' and 'texture'.

In keeping with the song's theme of 'breaking out' the shackles have definitely started to come off! A few more touches and overdubs than the opening track but nothing that is superfluous, this a well-crafted slice of Blackpool Rock, Senton Bombs style!

03 – HOOKED

After the frenetic pace of the first two tracks the intro for track three has a slower burning fuse that has an almost AC/DC-esque quality. Fucking love it!

The guitars of Messer's Kage and Gibbons add just the right amount of edge and skilfully counterpoint the angst in the vocals which are the real driver on this little treasure. Taking the foot of the gas hasn't in anyway diminished the final product. Tight and tasty! Have to mention the backing vox on this track – fantastic! This is a perfect lesson in how to add depth and texture with a few, simple but intelligently placed, well delivered ah's and oo's!

04 – DO YOUR JOB

First time I heard this track I thought, hmm, not sure. But like moss on a stone, it has grown on me!

The vocals again are at the forefront of this track. Readers of a certain age may well remember an advert for Pepsi Cola "Lip smacking, thirst quenching…" the delivery of the patter on this advert is very reminiscent of Joey's tongue twisting vox.

Deceptively paced, the guitars give a real sense of speed yet even though the lyrics pack more syllables than are decent in to every line, this again is far from pedal to the metal. The backing vox add a nice dose of menace to the chorus refrain of DO YOUR JOB!

Nice use of nothing with the gaps in the instrumental backing to the verses. Another thing to note is this song contains my favourite lyric so far encountered

"This is the real world baby - I want three bags full coz sheep aren't lazy!"

05 – HIGHFLYER

Heartbeat drum rhythms really do breathe life in to track 5. Overall slightly softer than its predecessors and again this has some really rather sexy backing vox adding the finishing touches to the packaging. This may be a rather simple song in terms of structure and in places this sounds quite stripped down, but if you listen you can hear the many facets which gives it weight, each layer adds to the next and the whole is more than the sum of its parts. Clever stuff.

06 – RETIRED

Next to enter the ring RETIRED – the first and only overtly wrestle referenced track on the whole CD. With great energy from the bell, this romp on the canvas is one that looks back to where the band has come from, and a touch of nostalgia is no bad thing. Having said that, this still shows the maturity and development the rest of the tracks display. The guitars riff; the bass lines pummel; the drums pile drive; the vocals are trademark Joey and once again the backing vox are noteworthy as whilst limited they add a real sense of dark menace. Put together these parts create another gritty, grinding and rather darkly gorgeous little number!

Is the trip down memory lane a winner? By two falls and a submission, Abso-fucking-loutely Bob!

07 – SICK SPEED

This song has all the elements to make it an absolute corker! Angry guitars, exploding bass and drums, dark and dangerous vocals, the choirs of hell on backing vox. There is even another change of pace with this track – more a cruise down the highway than a ¼ mile drag race (despite the opening line of the lyric proclaiming "Going Slow Just Ain't My Style!").

So what is it that I don't get? I can't put my finger on it. As I've mentioned this is made with the same quality ingredients, created with the same love and care by the same master bakers and yet… It just seems a little flat and just doesn't do it for me the same as the other tracks. May be this is a track that needs the live arena to really allow you to taste it at its very best. This is one genie that needs to be released from the bottle.

08 – GAMBIT

The game of chess as allegory for life with Asmovian twist that unlike chess after check-mate the game of life continues.

Dark, deep, dangerous and dirtly grungy. NICE!

A sense of power and urgency runs through the core of this song and some great drumming is backed up by some nice bass work, its simple, but done well. The guitars range from bowel churning chugging to soul soothing squeals and are sublime.

The vocal work is Mr Class at his angst ridden angry best. This is a song that has definitely been shackled by the studio process – live I would suggest light the blue touch paper and retire to a safe distance as this will explode in to life with a force that will be off the scale. GRAND MASTER!

09 – NINE OF HEARTS

Nice opening, single guitar riffing away. Joined by  crisp cut and shut power chord/bass/cymbal combo to add a punched emphasis to the basic rhythm, in between which we here the bass in unison with the main riff.

Nice face, shame about the legs! The first few seconds lead me to be believe I was about to experience another tasty slice of The Senton Bombs finest… but for me fails to deliver. Even the chorus that has the added power of Senton Bomb Singers on backing vox, just doesn't tickle my fancy or anywhere else. Why? Being honest, I don't know.  Perhaps again this is a track that needs to be heard live so as to reveal its hidden assets!

Rather like COWBOY CHRIST on SWEET CHIN MUSIC, this is the one that I have tried to get in to and tired in so doing. It is not a bad song. Like I often say in my cd reviews you will probably think differently and that is how it should be. This a personal taste thing and nothing against the band at all.

10 – YELLOW REBELS

Now this is a cheeky little number that has bags of fruity on the nose and just the right amount of acidity to balance things. More Pinot Grigio than Chablis but don't let this lightness of body fool this still has a decent punch even if for quaffing rather than savouring.

A tale of arm chair rebellion and being a rebel by proxy. A contender for best lyrics especially the second verse with its

"You  wanna fight the power like Hugo Chaves
Because Parliament is a carnival
I heard you talking about rebellion
The closest you got was the festival"

Trade mark twin guitar, bass lines and drums form the platform on which the song builds and what drives this vehicle for Mr Class's erudite lyrics forward at a decent pace that almost has you running to catch up.  Less busy than some of the other tracks, but less can be more and again it is the little touches that set this apart and elevate a good song in to a great song. I love the tribal sounding toms that make an appearance every now and again and the guitar and bass in these quieter passages might by understated but still carry a sense of menace with them which I rather like.

11 – JACKAL

The opening 10 seconds of the intro did produce a WTF is going on response from me on initial listen  - I did not see (or perhaps hear) that coming. Something different which is always good. Things do however settle on more familiar ground as the boys launch in to the song proper. TSB staples of great riffs, pulsating bass lines and rather sexy drums form a simple, strong foundation. Like the other tracks on this album it is the little touches, knowing what to and what not to play, and where and when to add the embellishments that are the magic ingredient.  The backing vocals are magnificent. The main vocal – classy!

The right choice as closing track? Oh, the old debate about what order to put the songs out in! I am sure many hours were spent in deciding this running order – first and last tracks are so important – I feel there were a couple of tracks that may have had a case for claiming this closing slot that have a bit more oomph JUST VISITING or perhaps HOOKED?  What do you think? Have a listen and let me know!

My Verdict:

A body of work The Senton Bombs can be proud to put their name too and with which be associated.

It marks a huge step forward in terms of development. As Woodstock Punkrock and I discussed on our way back from Born To Destruct band practise the other evening – this is now a band that has grown up and wants to be taken seriously. Attitudes have changed – but then the band members lives have moved on, roles and responsibilities on personal levels have changed and this is bound to show through in the music. The material is weightier, the construct of each song excellent, the sense of fun is still there but it has more snarl and bite accompanying it and the most noticeable change is the playing down of the Wrestle Rock image.

Throughout the drums are excellent; the bass lines are precise, powerful and a delight on the ear; the vocals are passionate, and I love the hard edge angst and venom that can be injected when required; the backing vocals are superb on this CD, always the right thing, with the right sound, in the right place at the right time. It is the guitars that have been the biggest revelation. With two talented young men on six string duties this could so easily be a battle of ego's  with each trying to outdo the other; but this does not come through listening to the tracks. There is an intelligence in the way the instruments interact – each solo fits within the confines of the song in question and is not a mere flurry of furious fingers.

As I have said in the review a couple of the songs I think will show their true potential when unleashed live, there was only one song that I did not like, but there is nothing on this CD that is badly put together – any issues I have are a personal taste thing.

If you know the band and have any of its previous output – add this to your collection you will not regret it.

If you know the band and have not got any of the previous output – get this and the excellent SWEET CHIN MUSIC – you will not regret it.

If you don't know the band, shame on you. They are a fantastic bunch of guys that play some wicked rock based tunes with a sense of danger and glint their eye. Genuine and honest, a commodity that is becoming increasingly rare.

Bloody Good Show chaps!

This is an honest assessment respectfully submitted by

A Man Called Moose.