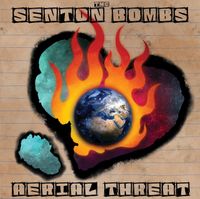 From: Maximum Volume
By: Andy Thorley
Beavis And Butthead: I know if you are under the age of 40 you won't have a clue, but those cartoon characters boiled music down to the only thing you need to know. Is it cool or does it suck.
I often smile to myself and think: wouldn't it be ace if I wrote two word reviews like, oh I don't know: "Sucks, massively" for any Shinedown release (hey Brett, don't think I've told you how bad you are for a week or two) or "this rules", well, for this as it goes.
But no, rather I am going to go on for about 500 words more about all kinds of things, not least of which is this: I got myself exercised as to whether "Ariel Threat" was a concept record, because the opening "Blue Sunset" has a hook that goes "hedge every bet….live to forget", but 50 odd minutes later "Coaster" strikes a totally different vibe: "don't waste your days being afraid to die, try not to worry, try not to care, enjoy the coaster at this fair."
Either way, whether it is or not "Ariel Threat" is a cracker of a record. "Be What You Want" chugs along, and you kinda think of the Foo Fighters at a push, then it happens (and it happens a lot), there's a guitar solo that screams "80s arena rock, baby, who wants in?"
Well me as it happens – and to be frank, I've been a Senton Bombs fan for years – but here, on these 14 songs they seem to have dialled things up. Like its heavier, but its punkier, to that end "Another Way" is the most outright punk thing they've done.
At the same time, I am a child of the 80s, but largely my musical heart belongs to the 90s and the bands like The Almighty, The Wildhearts, Little Angels, The Backyard Babies or Three Colours Red and it just so happens that you can't fail to hear that in work such as "Sleep Street", which slams, but with a proper melody.
Looking at the photos on their website (pleasingly their social media is scant on info and Social Media should always be ignored, of course) the collective SB look to be roughly the same age as your humble scribe and thus might get the Beavis and Butthead reference, but "High School Low" will strike a chord with anyone who sung "Megadeth right before the test".
There's a thunderous 90s vibe to "Dwelling In The Past", like some North West England version of Green Day, but just to prove they aren't bound by anything but a love – and a skill for – rock n roll, listen to "Sin On My Mind" and tell me there's not an indie flavour.
"Cheats Prosper" on the other hand is proper dirty sleaze. If there was a strip club run by the Hells Angels then this is playing, while "Rise Of The Underdog" has a rare energy, and maybe a passion: "one day all our dreams will be digital, same day all the world will be miserable",  offers Joey Class (resist Mark Zuckerberg, says MV).
In amongst the punk flavoured rock n roll, like "Storm The Castle", there's a couple that sticks out as much as it stands it out. "English Dreams", might be more Levellers than it is Senseless Things, but the way it takes down Tommy Robinson and his vile ilk is poetic.
"Satellite" gets "sounds like Honeycrack" bonus points, but the truth is while most here could have been on something I bought from the online record club I was in in the internet's early days, there is a left turn, like the dark tone of "Lake", which broods like The Mission.
"Ariel Threat" is a belter of a thing, one from a band that might be six albums in but is far too good to be a mere cult act.
Rating 9/10
From: MMH Radio
By: Diane Davies
I like the title of this new album from Blackpool's finest. The thought of an aerial threat conjures up a lot of possibilities, like falling masonry, heavy rain or even Seagull sh*t, but I'm tempted to say my favourite would be bombs and those would be The Senton Bombs or is that a bit too cheesy? Anyway, the Aerial Threat is real and it lands on the 27th. This is the sixth studio album from Joey Class and his crew, 14 tracks, stacked to the hilt for our enjoyment. 
Originally formed back in 2004 the Bombs have endured changes and relentless gigging over the years and have now built up a solid fan base. They've appeared at several festivals including Breaking Bands and the finals of Highway to Hell in Glasgow, although it was probably in 2016 when they signed to the German record label 7Hard, that the rollercoaster started to run a bit faster. The fourth album 'Mass Vendetta' was released and singles were aired on both the Planet Rock and Kerrang Radio stations. In 2017 they increased the pressure with more festivals such as HRH Sleaze and HRH AOR and following those shows they brought out the fifth album 'Outsiders'. This earned them support slots for acts such as Supersuckers and Bullets & Octane. 2019 was spent writing the latest album and now at last they can begin to reap the rewards.     
'Blue Sunset' was the second single from the album, so many SB fans will already know it quite well. It's quite a staunch rocker for an opener, a load of bounce and really vibrant, with an engaging catch. Again the first single 'Be What You Want' has a hook astride a running bass and some guitar interference, to make you pick up your ears. Punk Rock with a modern twist, Post Punk if you like, is one of the Senton Bomb's much favoured styles and they do it to perfection.  'Another Way', 'Sleep Street' and 'High School Low' line up to hit us with incessant pumping, the latter is not unlike the Ramones with a bit of Lancashire.    
As 'Aerial Threat' reaches track six, 'Dwelling In The Past' I notice a change in the air. It's a fast number with a cool melody and there's still the essence of punk with a driving guitar riff, but this one has a more softer edge. 'Sin On My Mind' is my personal favourite. A borderline ballad with charismatic chords and a denser atmosphere than Venus. Wondrous vocals from Joey and I like the way it breaks into more depth towards the finish. 'Cheats Prosper' continues the change in the wind, with whirling guitar and a chorus of 'Hey's'. Fast and highway hitting in frequency and there's a hint at the Doors in part, with the streaming strings. 'Rise Of The Underdogs' has a charming melody and the drumsticks of Scott Mason include Cowhorn tapping if i'm not mistaken. 'Storm Of The Castle' heads back to the punk rhythm, it's fast and crashes into everything around it. The delicious guitars, courtesy of Johnny Gibbons and Damien Kage, add a load of the dog's proverbial's, so yeah, this track is another that stands out.         
'English Dreams' is probably the odd man out. A tale being told to uphold a message or the thoughts and wishes of a perfect world. It comes across as something deep and personal for Mr Class and I have nothing but respect for this. 'Satellite' increases the tempo with its melodic harmony. This is a really pleasant song, light and higher in pitch, jolliness is in abundance. 'Lake' is about the discovery of something below the surface and whether you take that literally or peer more into its dark waters, the end result is the same. This march of a song, allows the other side of The Senton Bombs to get some air. Quite a beautiful and crafted piece, the howling guitar and gentle vocals complement each other so well, it's truly outstanding. 'Coaster' (which was also out as a single), is the last up, so to finish we get a sleazy Blackpool ballad, but get that groove, T.Rex mixing with the Dog's D'Amour. Joey wrote this as a lesson in life to his children, but the lyrics can be a message to all of us.  
'Age is just the counting of rotations round the sun, don't let the growing number spoil the fun' – Coaster.
'Aerial Threat' being the sixth album from The Senton Bombs, has all the rich diversity you would expect from an experienced crew. Something different at every corner and it's full of surprises. Already a hit with fans and those who have managed to get a copy, this is going to be another contender for album of the year, make no mistake.   
'Another contender for album of the year, make no mistake'
4.5 / 5
From: Planet Mosh
By: Dennis Jarman
So 2021 brings us new hope and some of it comes from Blackpool bawlers The Senton Bombs with Aerial Threat, their sixth studio album released on March 27th via Regolith Records.
The title could be to do with their "bombs bombs bombs away" catchphrase or even the dangers of washing powder. You never know with this lot! Prior to the album release they have built up momentum by releasing 5 singles from it and the the finished article consists of another 9!
Album opener 'Blue Sunset' is driven by body blow punches of kick drums from Scott Mason as the abrasive riffing from Johnny Gibbons and Damien Kage power away and it's left to Joey Class to add a soothing lead vocal to add a touch of menace until it beefs up to a full on wah-wah guitar outro.
'Be What You Want' is basically a powerful message of being true to yoursel that is reflected in the verses and really hammered home in the choruses. Tribal drum patterns and driving riffs give it a melodic punk vibe until Johnny lets rip with another dose of wah-wah.
Wrist snapping snare work lights the short fuse for the rabble rousing rage of 'Another Way' that doffs its cap to Motorhead by its plug in and batter it out with no frills.
'Sleep Street' is a catchy but still caustic rant that bounces along like Tigger on amyl nitrate as a curveball comes from a country and western twanged solo.
'High School Low' shows that punks not dead by its ferocity and the quick witted lyrics perfectly portray what we all went through back in the day.
Try to imagine a more mental 'Jesus Built My Hotrod' by Ministry for 'Dwelling In The Past' and your halfway there to headbanging like a loon!
'Sin On My Mind' has Dick Dale like chiming guitar chords weaving around an angelic vocal that is offset by the potent choruses.
They get some dirt under their fingernails during 'Cheats Prosper' as they deliver an aurally gruelling (in a good way) three minutes of devilish rhythms topped off by a psychotic vocal.
'Rise Of The Underdogs' is a clarion call to arms that fits in with the current state that we're in. It rallies along on a wall of blustering grooves and chest beating "all hail" backing vocals.
'Storm The Castle' is a belligerent bare knuckled bruiser pummeled out as raw as they can possibly get whilst bashing it out with full force. It's another one for the headbangers!
'English Dreams' is the most quirky song here. Brow furroughing verses are spat out through clenched teeth as moments of calm come from the sugar sweet choruses.
Think of Tom Petty rocking out and you're not far wrong for 'Satellite' that sees the band cranking up the volume and a stunning guitar piece midway is nothing short of tear jerking.
'Lake' is a beautiful number that strolls along the beach on hypnotic guitar lines and a crooned vocal strangely brough to mind Roy Orbison.
This eclectic album closes on a very personal song as Joey wrote 'Coaster' for his children to give them a message of hope for their future, point proven by the chorus of "don't drink the ocean, don't smoke the sky, don't waste your days being afraid to die. Try not to worry, try not to care, enjoy the coaster at this fair". It's lyrically and musically heavy as the hefty riffing hit as hard as the snare drums.