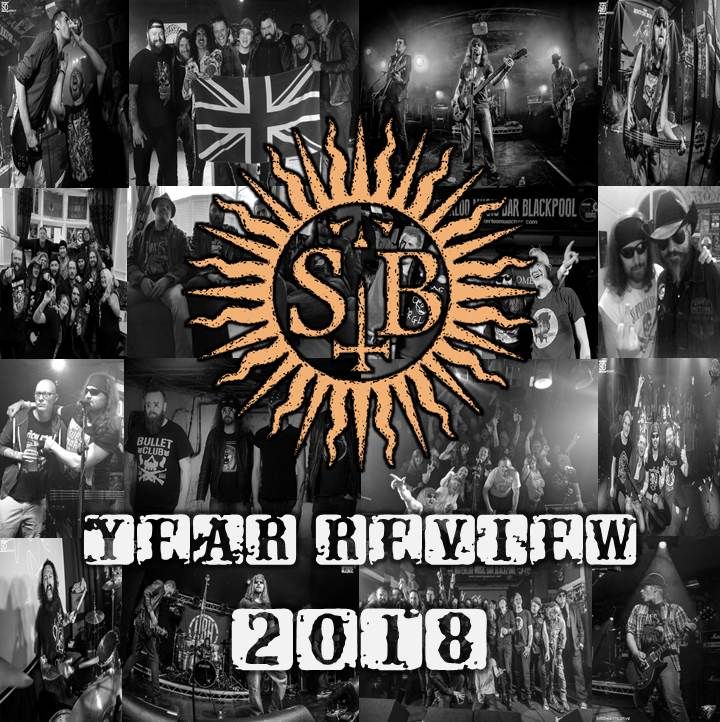 Since beginning as teenagers with few clues and less direction, to be travelling around making our racket to appreciative crowds all these years later comes as something of a surprise. Far superior musicians never make it out of their bedroom, let alone get to support their favourite bands and drink whiskey through the night with their long-time heroes. 2018 delivered and then some, time to look back in our annual Year Review Awards...
BEST GIG  
Easily the toughest call with five clear standouts. From the big-time tasting Hard Rock Hell AOR and Sleaze Festivals, to three at our hometown church The Waterloo, supporting The Supersuckers, Xmas Shenanigans (with Massive Wagons) and… this year's winner, by an inch – Roxfest! A night of pure celebration, the half century of legendary DJ and dear friend of the band Stevi Rox. We secured the date and lined-up four amazing bands containing great friends to join us in paying tribute to a guy who has helped us all, in rode Psychobabylon, The Midnight Dogs, The Idol Dead and Takeaway Thieves. Just about all our favourite people converged on a truly special night. Considering how good some of the 2018 gigs have been, it just shows this one was something else, the intangible, emotional, 'let yourself go' and rock 'til you drop sensation. Finishing with Stevi and Wordy on stage and the entire crowd singing the words back at us, this was just immense! 
Winner: ROXFEST, THE WATERLOO, BLACKPOOL (15.06.18) 
Previous Winners: 
THE MAZE, NOTTINGHAM (30.04.17)  
BROOKS CLUB, ACCRINGTON (19.03.16)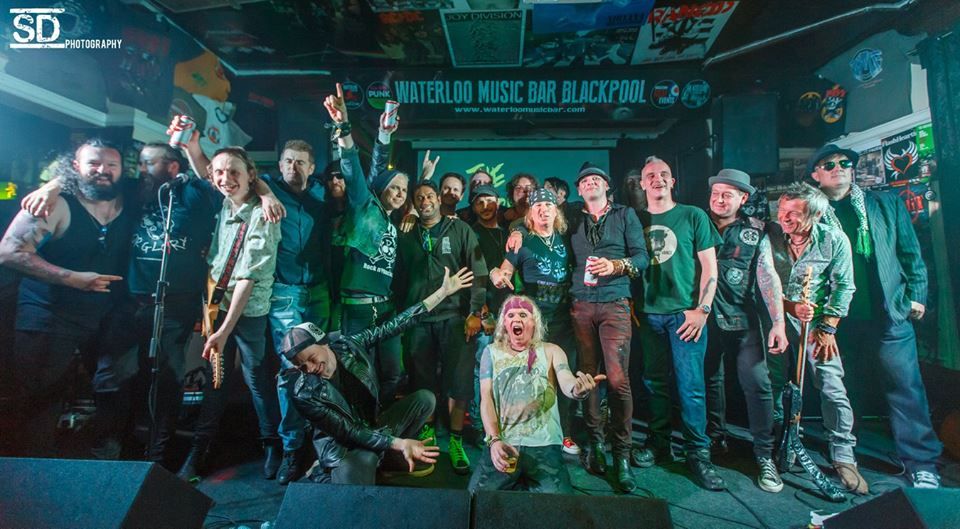 WORST GIG  
Bit of a sore thumb on a largely brilliant hand dealt. Supporting Swedish Jazz-metal band 'Shining' on the first night of their 'Animal' Tour, we rocked up to Satan's Hollow, Manchester on a cold dark Sunday afternoon. We only agreed the gig due to a friend getting us on the bill due to his love of Shining, but it didn't seem implausible this might be a worthwhile venture. Manchester ain't far, Hollow is a decent venue and despite our collective instincts suggesting plug-pulling, it was too close and we don't like to withdraw late. If you're sacking off a gig because it might suck – you shouldn't have agreed to it in the first place. We encountered a sound engineer who may have been the victim of some kind of Swedish Jazz-metal gang-rape prior to our arrival. The main band had apparently sound-checked for hours and he was so pissed off there was urine dribbling from his eyes (could have been the jazz-rape). Copping for the opening slot the hapless promoter "needed us on", but it was 6:45 and the posters and website stated "doors at 7", something we only found out post-set, meaning those who travelled out for us found the tail end of our set, much to their bemusement. Gigs like this are reserved for the rearview, yet it served as a timely reminder in a head-on collision of "always trust your instincts". 
Loser: SATAN'S HOLLOW, MANCHESTER (04.11.18) 
Previous Losers: 
GULLIVERS, MANCHESTER (22.07.17)  
THE GREAT BRITISH CAMPOUT, PETERBOROUGH (17.07.16)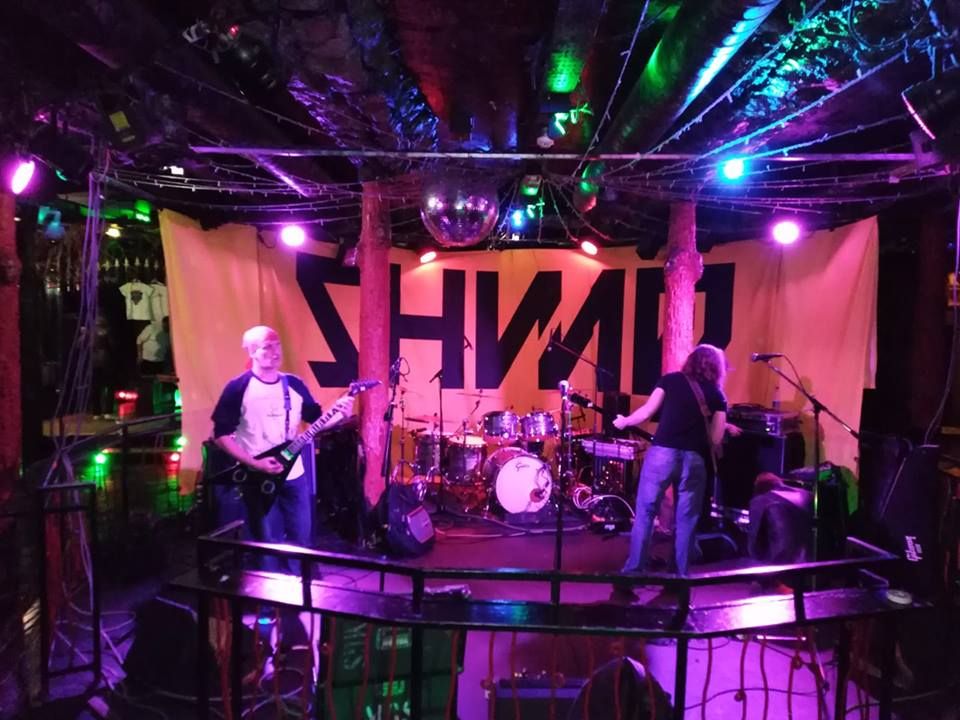 BEST VENUE  
Last year it may have seemed a 'surprise' victor or some sort of 'Blackpool' biased from us donkey riding rock munchers. This year it's a no-brainer. Our first ever consecutive winner providing us with three 5-star gigs, the setting for our music video 'Who We Are' and hours of enjoyment – take a bow, The Waterloo Music Bar. A superb venue which gets better every time you enter. Ian and the gang deserve every success – we love 'em and we love the place. The rise of the Waterloo knows no limits. The bands coming through the door speak to that and the punters who follow echo it. One day Ian's dream of Black Stone Cherry out on the Bowling Green will be realised… at least it doesn't seem as ambitious as it once may have. All our respect and a massive thank you for what you've given us and the town this year.
Winner: THE WATERLOO ROCK MUSIC BAR, BLACKPOOL  
Previous Winners: 
THE WATERLOO ROCK MUSIC BAR, BLACKPOOL (2017)  
360 CLUB, LEEDS (2016)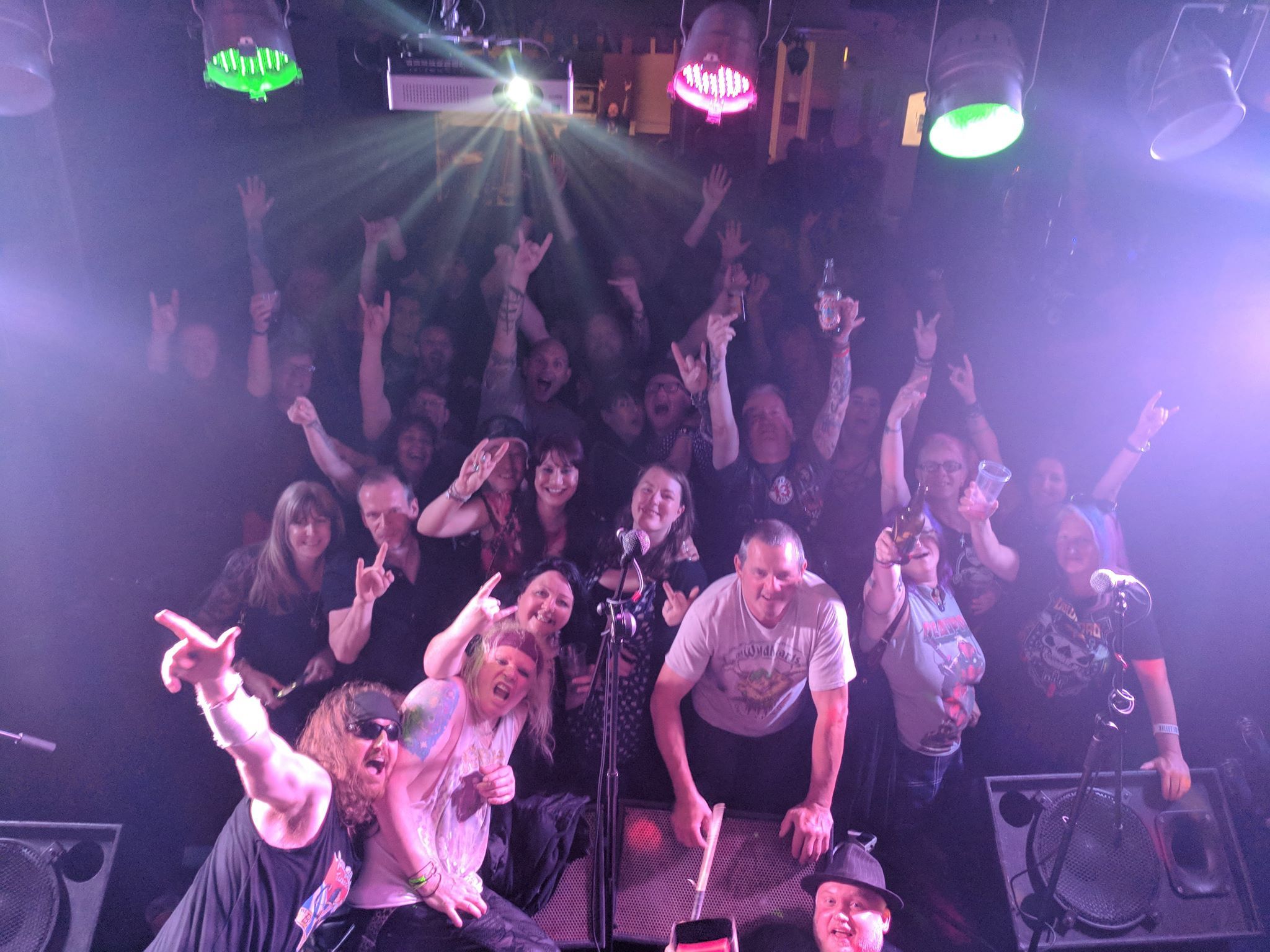 BEST BAND WE PLAYED WITH  
In a year where we joined the fantastic Bullets & Octane on their tour for a couple of dates, featured on festivals with the likes of the Backyard Babies, L.A. Guns, Skid Row, as well as playing with chart-busting hard rock brothers, and last years winner of this award, Massive Wagons, it might have been a difficult choice… had it not been for the greatest rock n roll band in the world… The Supersuckers! 
Our collective favourite band of all-time gave us the honour of supporting them twice on their 30th anniversary tour – the most special night being in Blackpool where we warmed the stage for them before they delivered 'Evil Powers of Rock n Roll' in its entirety (my number 1 album of all time for the record). Then kicking back and hanging through the small hours as we put the world to right over whiskey and beer. My favourite night of being in a band, largely down to the company, if you would have told the 19-year old who started this band he'd one day get to do that… well that fucker would have probably believed you, but still, it's now a reality. Special. Defining. Fulfilling. 
Winners: THE SUPERSUCKERS 
Previous Winners: 
MASSIVE WAGONS (2017)  
TYGERS OF PAN TANG (2016)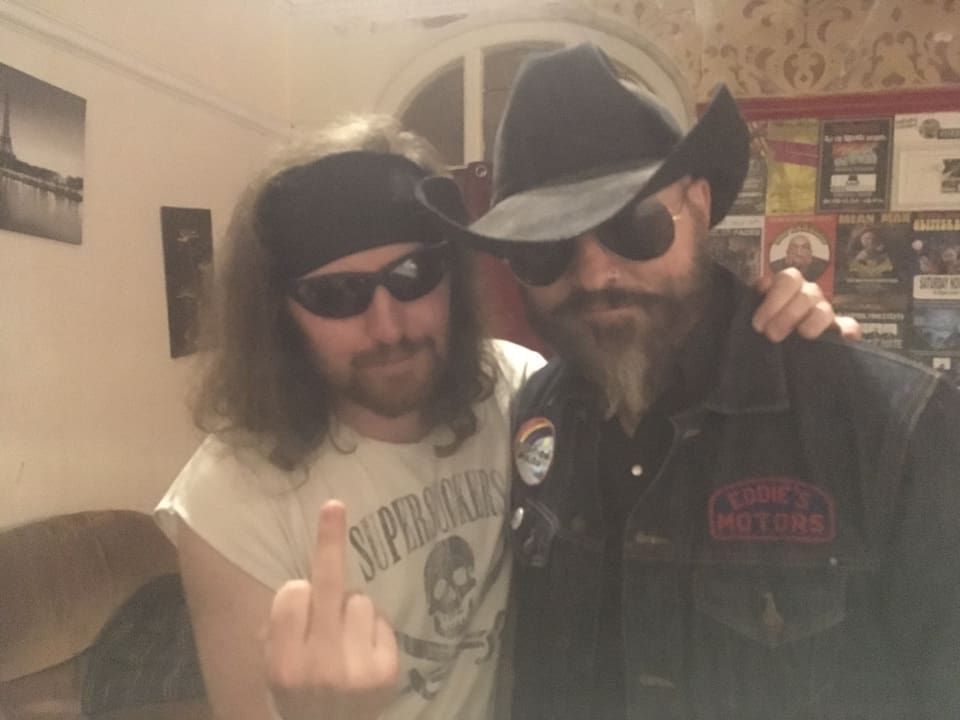 MOST MEMORABLE JOURNEY  
We'd just got through supporting the Suckers in Pershore at the 'new' Iron Road, not quite the old Iron Road, but decent all the same. We'd played 'Born with a Tail' to the man who wrote it, got the nod and then danced like maniacs through a ferocious first night of the tour set, with a good few comedy errors to let us know our fave band are human too, reassuring. By the finish we were so wasted Kal was already out cold in the car. Damo and me were on a mega-high, as was Scotty and even mr cool, Gibbons was in on the feel-good factor. Back in the Scott-mobile we raced off home, four hours with an ETA around 4:30am. We were discussing the 'Bohemian Rhapsody' movie and how many great songs Queen have, when Damo pipes up to tell us how shit Queen are and suggested we all hate them too we've just been overroared by the film and its nostalgia. Cue DJ Gibbons lining up every Queen song which we belted out all the way home. "No time for Damo, cause we are the champions… of the world!". Got home, threw up and basked in sickening glory of a quality night. 
Winner: RETURN FROM PERSHORE 
Previous Winners: 
RETURN FROM BREAKING BANDS (2017)  
RETURN FROM PEREBOROUGH (2016)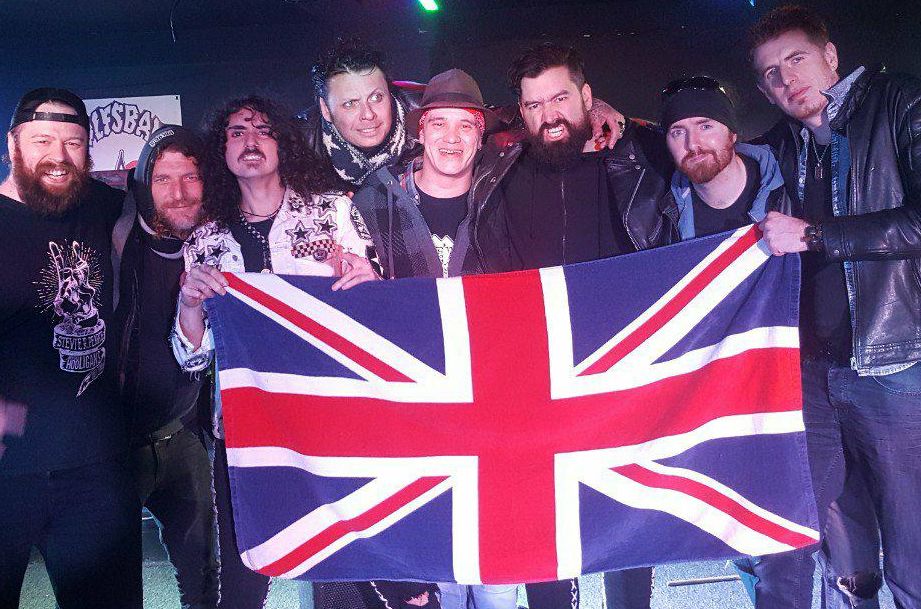 BIGGEST FUCK UP  
Having just played a cracking set to a giant crowd on the second stage at HRH AOR, Hafan Y Mor in North Wales – right in between Choir Boyz and Skid Row on the main, the latter which we swiftly hopped over the thoroughfare to catch, it was drinks and conversations with the many quality folk in attendance. Gibbons and Mason departed, smartly retiring to their caravan. For me, stuck with the drunken combo of dumb and equally dumb, I stuck it out before deciding we best head back with the lights of the venue dimming. We began to follow the trail until we reached a bridge, I knew we didn't need to cross it but Damo and Kal were adamant, absolutely positive, couldn't be more certain. Neither of them former Cub Scouts I should have whipped out my sixer badge and told 'em to get fucked, but for some reason, call it gig-high plus tiredness, I let the lads lead me for a change. Next minute, "oh shit" says Kal, I look down and mine and his trainers are deep in some sludge, not a swamp but a muddy mess of little manoeuvrability. Damo begins laughing at our misfortune so I grab his collar and pull him in with us, it wouldn't be an SB road tour without Damo's clown-shoe Converse caked in mud. Stuck in the mud with no idea which way to go next Damo whips his phone out to make the miserable call for help to our bandmates who will now doubt find this hilarious. Scotty answers and when trying to direct Big Dame gives up as I demand the phone. Turns out we shouldn't have crossed the bridge. I told 'em, I fuckin' knew it. An hour plus wasted, we trot back in the dark, covered in mud, pecking nonsense. A shite end to a fine day. 
Winner: LOST IN THE MUD AT HARD ROCK HELL 
Previous Winners: 
MASON VERSUS THE HILL (2017)  
DAMO'S MOTORWAY EXITS (2016)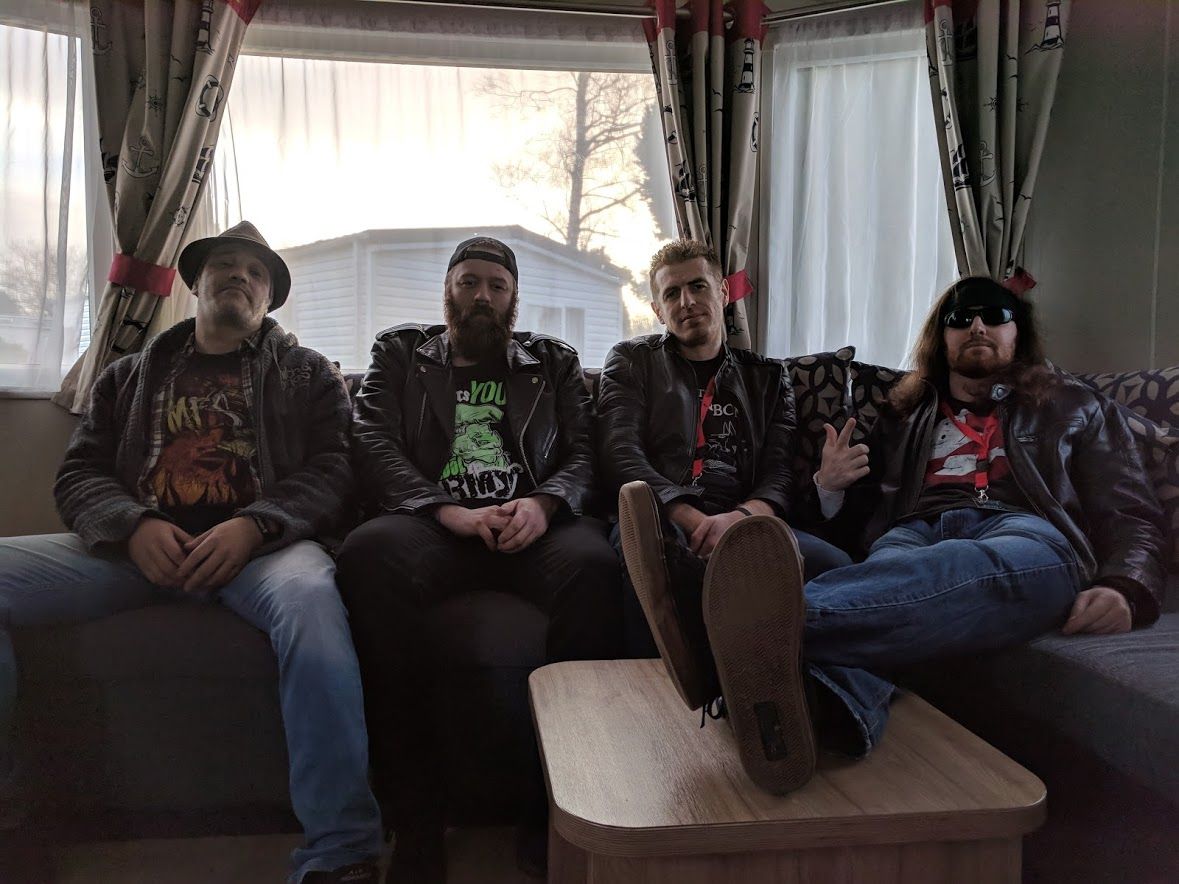 BIGGEST ACHIEVEMENT  
On a personal note supporting your all-time fave band will do it as far as achievements go, but once you've been and done that, it's much less an achievement and much more a special memory. The biggest achievement this year comes in the way of a pretty heavy handed pat on our own backs. 'Outsiders', our fifth studio album is an awful long way from 'Sweet Chin Music' (album numero uno, a decade old next year). We've dared to be different, more different, yet remained true to ourselves throughout. Reviewers have unanimously loved it and claim we're knocking on the door to the big time – but the clue is in the title, we're outsiders in this game and we're resigned to the fact that probably won't happen, not in a pessimistic way, but in a realistic way which makes us all the more content in the fact we've made a pretty great album. Chapter Zero is our passion, Mass Vendetta is our musical evolution, Outsiders is our essence. We hope you liked it! 
Winner: OUTSIDERS ALBUM
Previous Winners: 
FIRST ACOUSTIC PERFORMANCE (2017)  
CLASSIC ROCK ALBUM REVIEW (2016)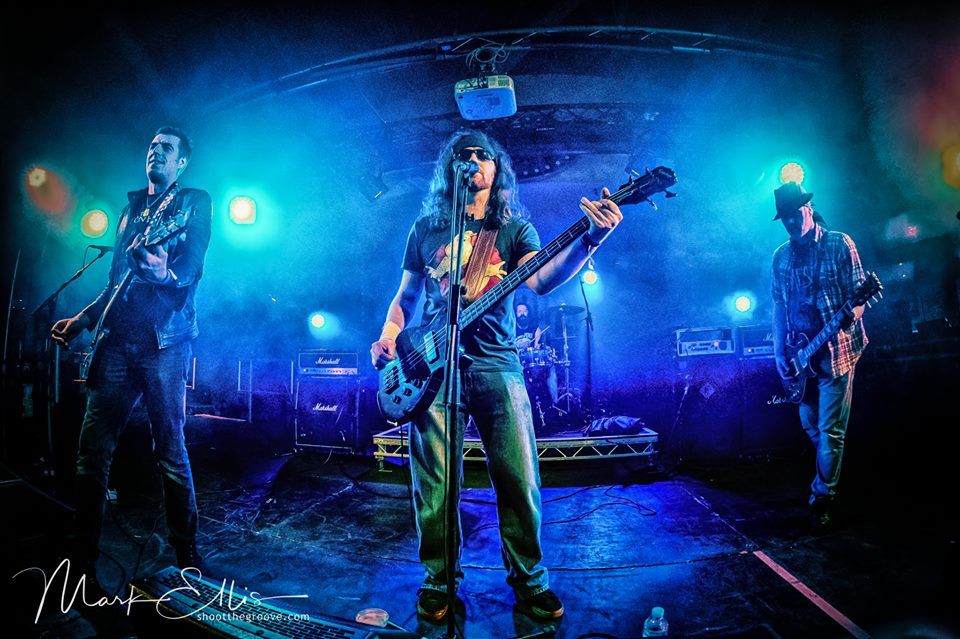 MOST DRUNK  
Last year Kally Ka$h shocked the world and stole Damo's title for 'Most Drunk', it couldn't happen two years in a row could it? 
No, of course not. In truth Damien has been so well behaved this year he's been unrecognisable to the sober eye, Kal and myself have done our fair share and were both in the running for this following several notable outings, then who comes galloping up the outside. He left it to the winter solstice, only ten days of the year remaining, following a sublime gig supporting the Massive Wagons before a sold-out capacity Waterloo. The free Red Stripes were going down like water in a desert, Damo's facial inversion had begun, the sloping eye brows of a man well on his way to his old stomping ground – Wasted-ville. As the night drew to a close he pestered me about taxis, calling multiple and then not managing to get in any as we shuffled about, collecting merch and chatting. Eventually, with everything ready to go I went in search of the haunting hindrance, only to find he'd evaporated, a small patch of condensation on the venue ceiling. On my way home in the taxi my phone rings… 
"Hey", Damo bellows, sounding like Chewbacca with an apple in his mouth. 
"Where are you bellend, I've just looked everywhere for you?" I reply.
"I'm in a field" 
"A field, what the fuck are you on about?" 
"I don't know, I got a taxi and got out in a field, I don't know where I am" 
He then bursts into his monstrous laugh for the next several minutes as I tried my best to figure out which field it might be and how he might get home. He called me the next day to ask what happened, no recollection, duly reclaiming his annual award. 
Winner: DAMIEN KAGE  
Previous Winners: 
KALLY KA$H  (2017)  
DAMIEN KAGE (2016)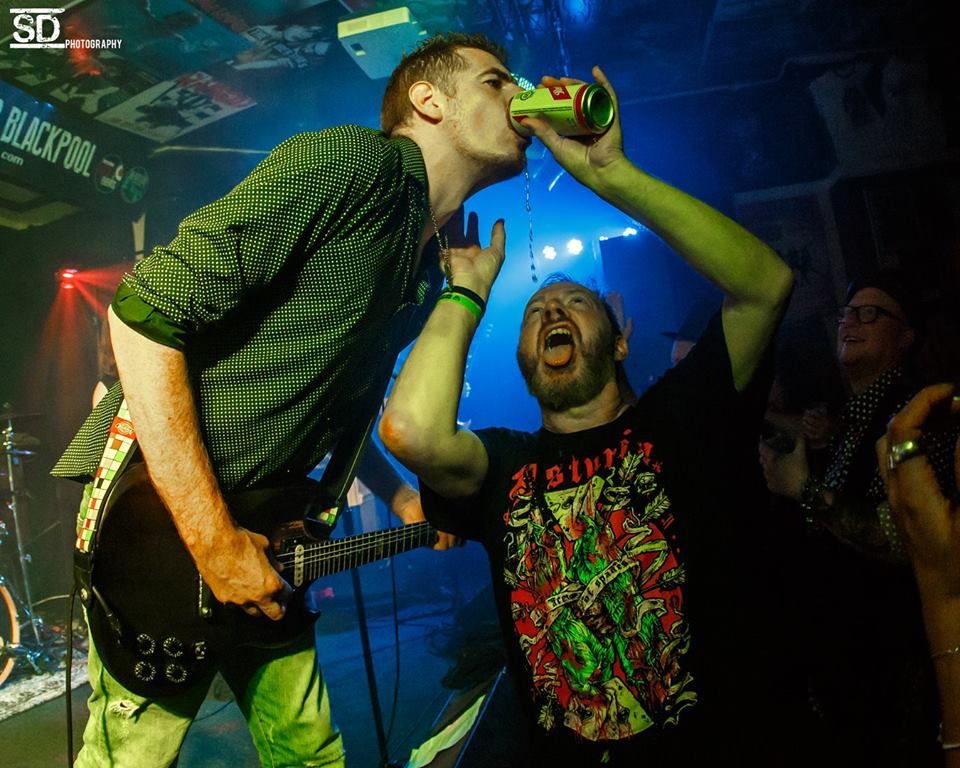 CONCLUSION  
It has been one of, if not the, best year to date. Looking back on '18, there are so many highlights, so much to be thankful for. The gig list (containing our usual 'star ratings') below, however, will not look so similar in 2019. As we head into year 15 we are taking a break from the stage. It's a group decision, but, in short, life caught up. Two of us have young families, we've all just changed jobs, got promotions etc. resulting in extra responsibility, pressure, demands and the stress that rides with it. There are also personal reasons which I could probably summarise with us all being somewhat burnt out. We've had some truly enjoyable gigs this year, but the candle has been burning at both ends and we have to be careful not to melt it completely. Admittedly, there was a time where I thought this may be the end – the Suckers gig being a strange 'Game completion' point, with my good wife Sally pointing out we could treat the rest of the time in the band as DLC. Fortunately, we feel a breather is a better option opposed to anything final. We need to get our houses in order before House Senton can rise again and march on the throne. 
I didn't intend to end such a fine year on a down-note, just an honest one in case you wonder why we're not doing the usual and announcing a load of dates. As it stands we will be out of action until May and then we will take stock and see what's cooking. In the mean-time, spread the word, keep in touch, keep the flame alive and know with every fibre of our beings we appreciate your love and support to the core. Thanks for riding with the Outsiders through 2018, from us outlaw rockers to our outlaw friends, it ain't time for the sunset yet!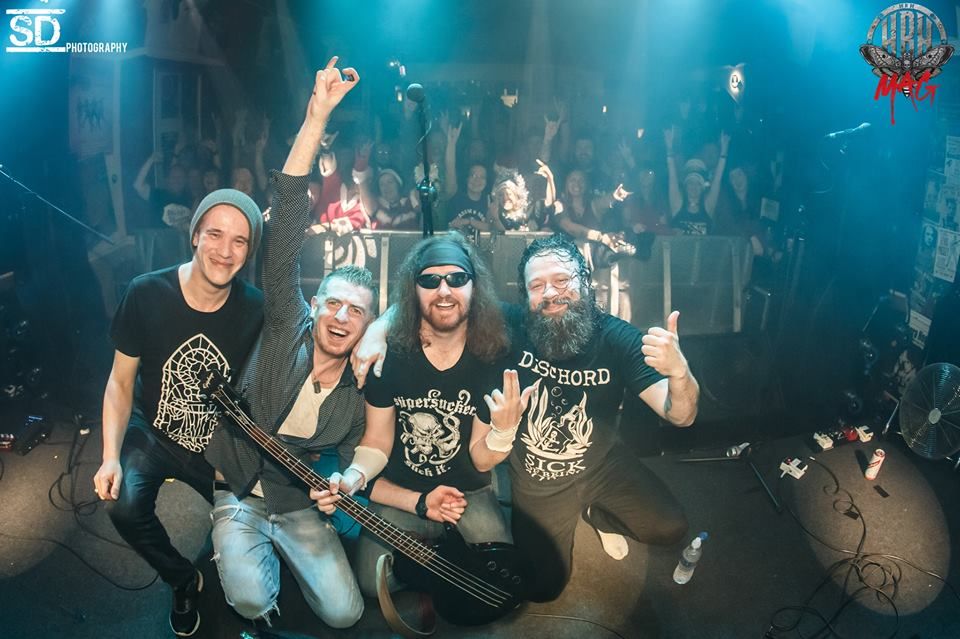 GIG STAR RATING  
Waterloo, Blackpool (Massive Wagons) ☆☆☆☆☆ 
Waterloo, Blackpool (Supersuckers) ☆☆☆☆☆ 
Iron Road, Pershore (Supersuckers) ☆☆☆☆ 
Satan's Hollow, Manchester ☆ 
Parish, Huddersfield ☆☆ 
Hard Rock Hell Sleaze, o2 Academy, Sheffield ☆☆☆☆☆ 
Rockwich Festival (Acoustic set) ☆☆☆ 
Waterloo, Blackpool (Roxfest) ☆☆☆☆☆ 
Snooty Fox, Wakefield (Waynestock) ☆☆ 
Oswaldtwistle Social Club ☆☆☆☆ 
Duffys Bar, Leicester ☆☆☆☆ 
Gullivers, Manchester ☆☆☆☆ 
NLC Festival, The Maze, Nottingham ☆☆☆☆ 
Musician, Leicester ☆☆  
Waterloo, Blackpool ☆☆☆  
Hard Rock Hell AOR Festival, Hafan Y Mor, Wales ☆☆☆☆☆ 
Snooty Fox, Wakefield (Bad Ass Bash) ☆☆☆  
Bar Metro, Bolton (Bullets & Octane) ☆☆☆  
Iron Road, Evesham (Bullets & Octane) ☆☆☆