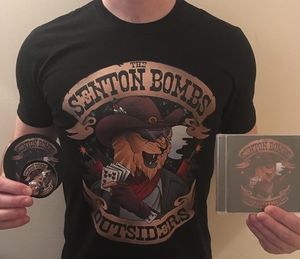 NEW ALBUM DELUXE PACKAGE!!!
* Signed Album (CD)
* T-Shirt
* Patch
* CD
* Sticker & Badge
ALL FOR JUST £20

You go see a band these days you might pay £20 for JUST a T-shirt... or a limited edition tour poster... or three drinks... 
We at The Senton Bombs believe in value for money. Signed copy of the new album, full colour awesome tee, patch, sticker, badge... all for just £20! 
We ain't about profit margins, we just want you to merch up and enjoy our new record!
HIT THE SB STORE NOW!!!